Resources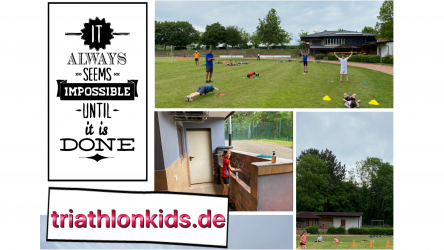 Vmoso Case Study: Achieving compliance with COVID-19 regulations for sports training programmes
Case Study
To meet their needs, the Tri-Team Turnverein Heitersheim use the cloud-based collaboration platform Vmoso, which was already in the process of a step-by-step roll-out.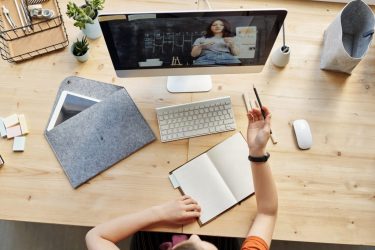 Will there be a New (and better) Normal for how we work?
digital transformation, digital workplace, work at home
Where we work, and how we work and interact with colleagues, partners and customers, has been changing. Change will probably be hastened by the current crisis, so what can we do to equip employees to...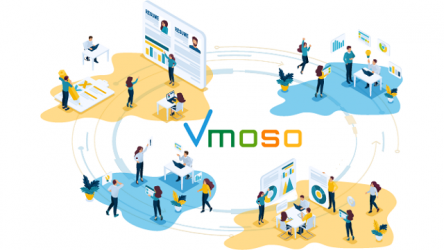 Vmoso Case Study: Open Group Japan
Case Study
There are regular conferences, web meetings and other get-togethers, but The Open Group Japan wanted a private collaboration service to share result of meetings, action plans and tasks for member comp...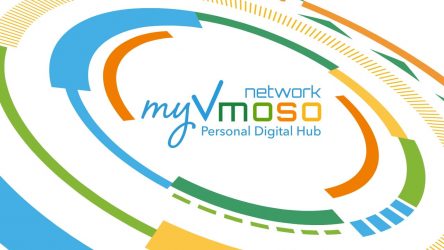 MyVmoso Network Introduction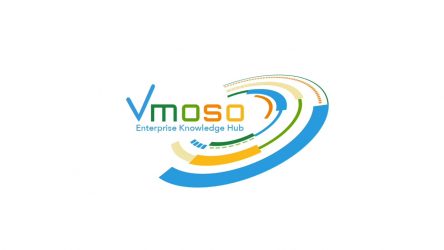 Vmoso Enterprise Knowledge Hub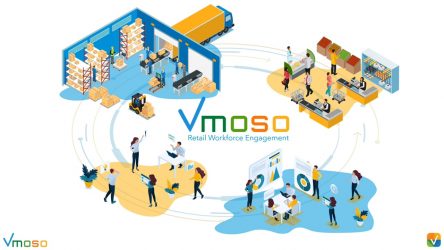 Vmoso Retail Workforce Engagement
Infographic: The Seven Stages of Personal Data Management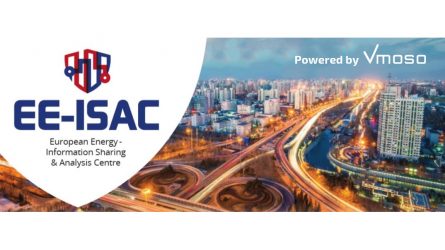 Vmoso Case Study: EE-ISAC
Case Study
The European Energy – Information Sharing & Analysis Centre (EE-ISAC) is an industry-driven, information sharing network of trust. It is a non-profit membership body in which the members are commerc...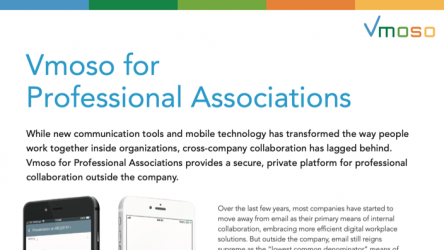 Datasheet: Vmoso for Professional Associations
Data Sheet
While new communication tools and mobile technology has transformed the way people work together inside organizations, cross-company collaboration has lagged behind. Vmoso for Professional Association...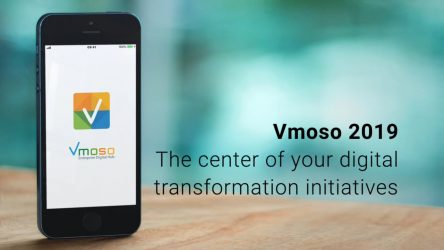 Video
Vmoso 2019 brings together the sophistication of Vmoso's platform for digital engagement with an intuitive new user interface, making Vmoso's powerful communication and collaboration features acce...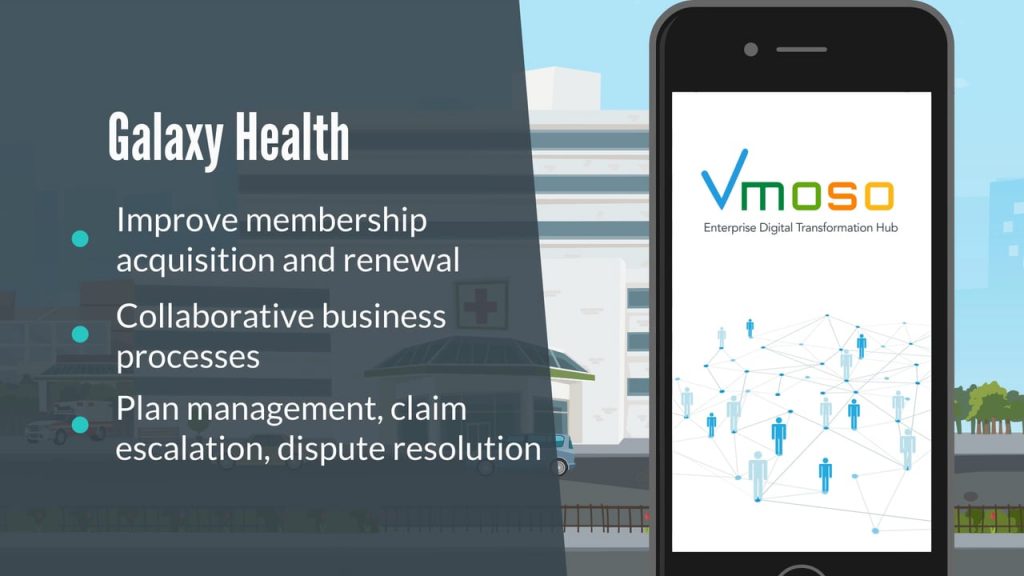 Galaxy Health - Collaborative Process Management
Video
Galaxy Health is a US healthcare insurance provider. Galaxy has chosen Vmoso to  improve its membership acquisition and renewal rate as well as a number of collaborative business processes involving...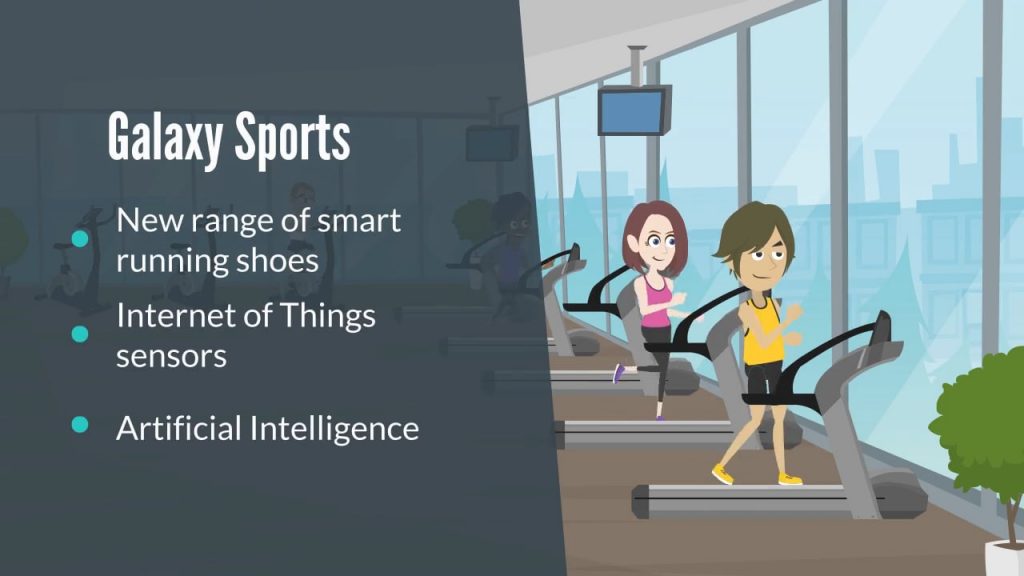 Video
Galaxy Sports are planning the launch of a new range of "smart" running shoes that take advantage of emerging technologies such as Internet of Things sensors and artificial intelligence. At the ce...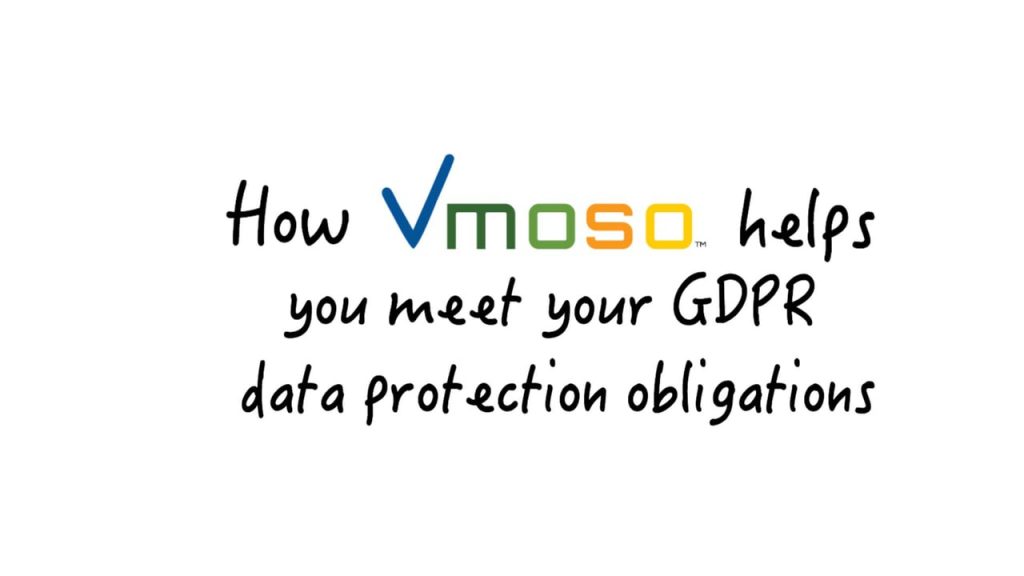 Video
With the introduction of GDPR just months away, it's important that the systems you use for communication receive the same level of data protection scrutiny as your systems of record.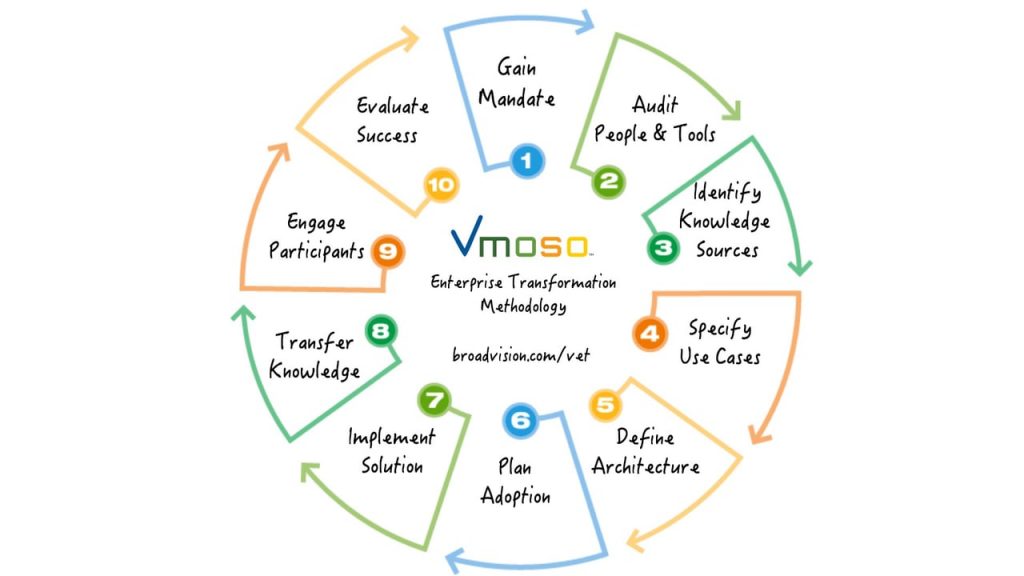 Vmoso Enterprise Transformation Methodology
Video
At BroadVision, we understand that getting your corporate knowledge under control is more than just a technology implementation programme. The Vmoso Enterprise Transformation methodology is a 10-step...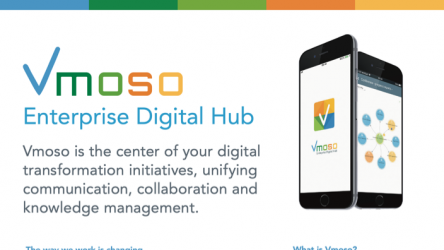 Data Sheet
Vmoso is a cloud-based mobile-centric platform for empowering digital transformation. A platform that brings together knowledge management, enterprise communication, workplace collaboration and busine...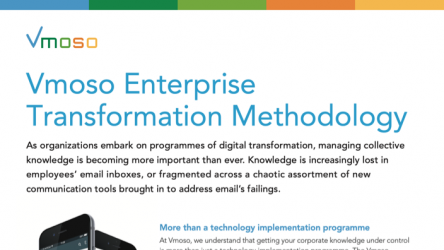 Vmoso Enterprise Transformation Methodology
Data Sheet
At BroadVision, we understand that getting your corporate knowledge under control is more that just a technology implementation programme. The Vmoso Enterprise Transformation (VET) methodology is a 10...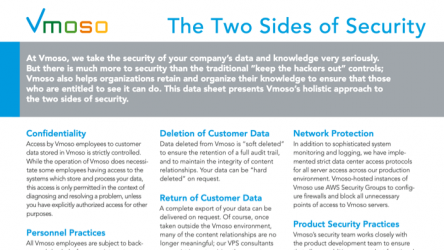 The Two Sides of Security
Data Sheet
Tthere is much more to security than the traditional "keep the hackers out" controls; Vmoso also helps organizations retain and organize their knowledge to ensure that those who are entitled to se...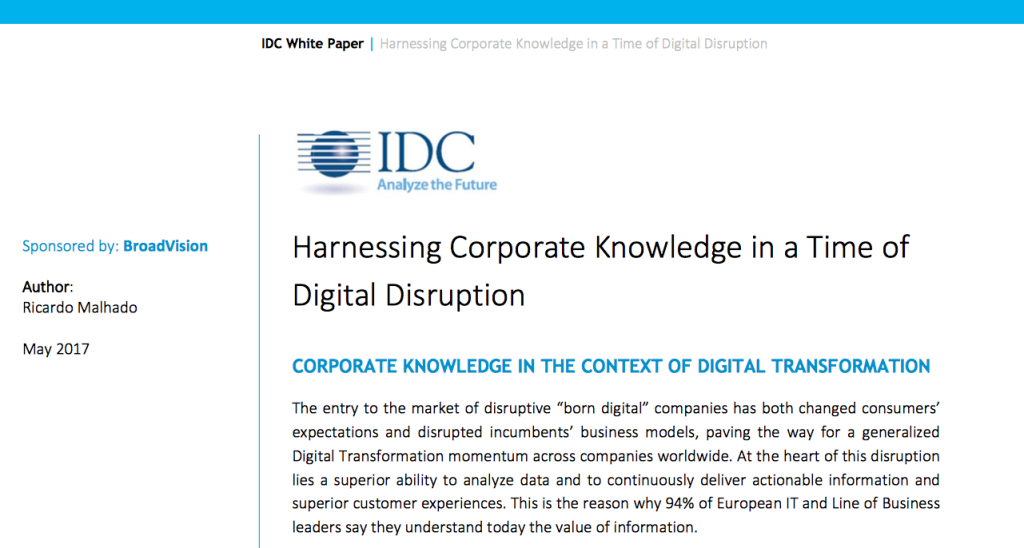 Harnessing Corporate Knowledge In A Time of Digital Disruption
White Paper
The entry to the market of disruptive "born digital" companies has both changed consumers' expectations and disrupted incumbents' business models, paving the way for a generalized Digital Tran...
Vmoso Chatbot by Optimist
Video
Vmoso Chatbot by Optimist enables companies to provide rapid, automated assistance to customers within the context of their ongoing relationship with the customer.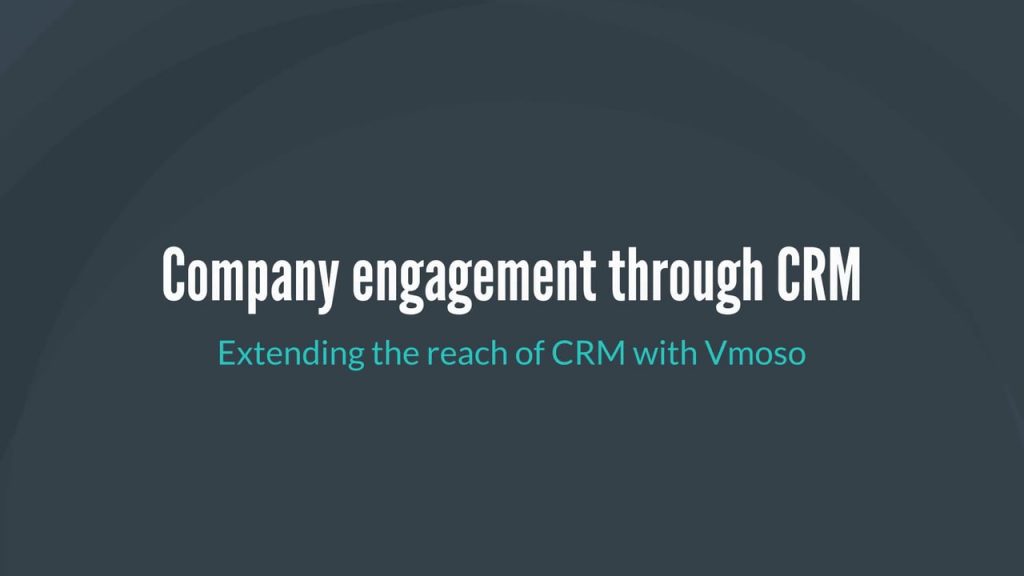 Extending the reach of Salesforce.com with Vmoso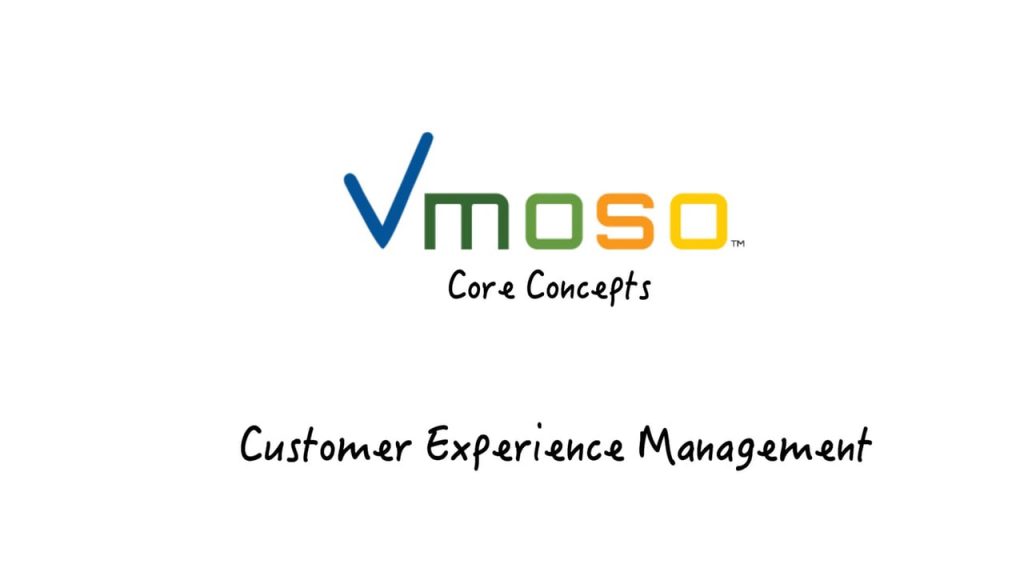 Customer Experience Management
Video
Customers' expectations of companies are changing. The "thanks for your email, we'll reply in 7 working days" response simply isn't good enough these days. Customers not only expect a faster...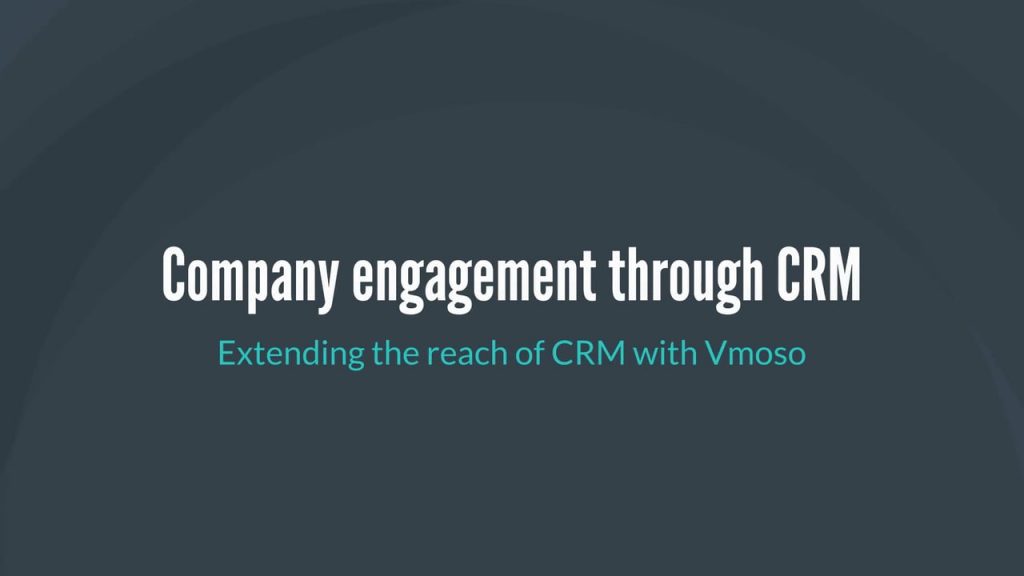 Extending the reach of CRM with Vmoso
Video
Integrating Vmoso with SugarCRM increases the reach of information held in the CRM improving the efficiency and accuracy of the sales team, leading to shorter and more successful sales cycles.
Video
Whereas the structured, predictable element of a business process is increasingly automated, exception handling continues to be where human knowledge and intelligence needs to be applied to resolve a...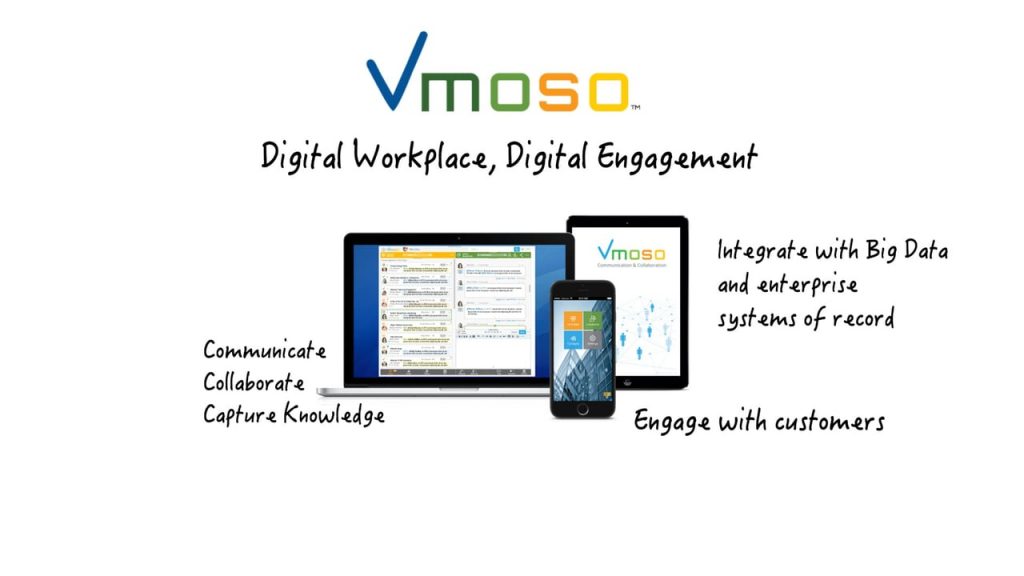 Video
Digital Transformation is the buzzword of the moment. But what does it mean in practical terms?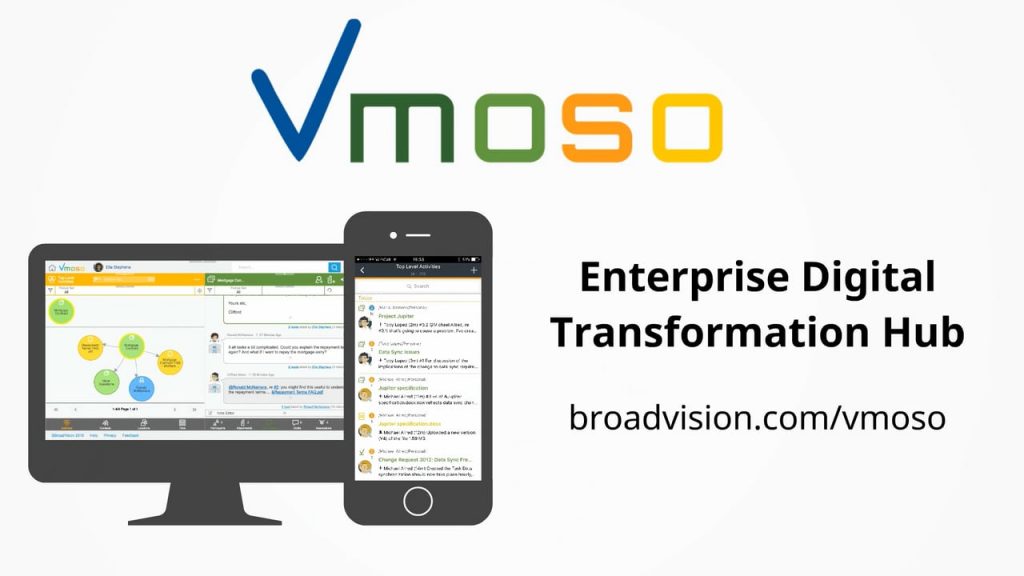 Vmoso: Enterprise Digital Transformation Hub
Video
The way we work is changing. As we embark on digital transformation projects that change the nature of our products, our workforce and our offices, we need a digital workplace to support these new met...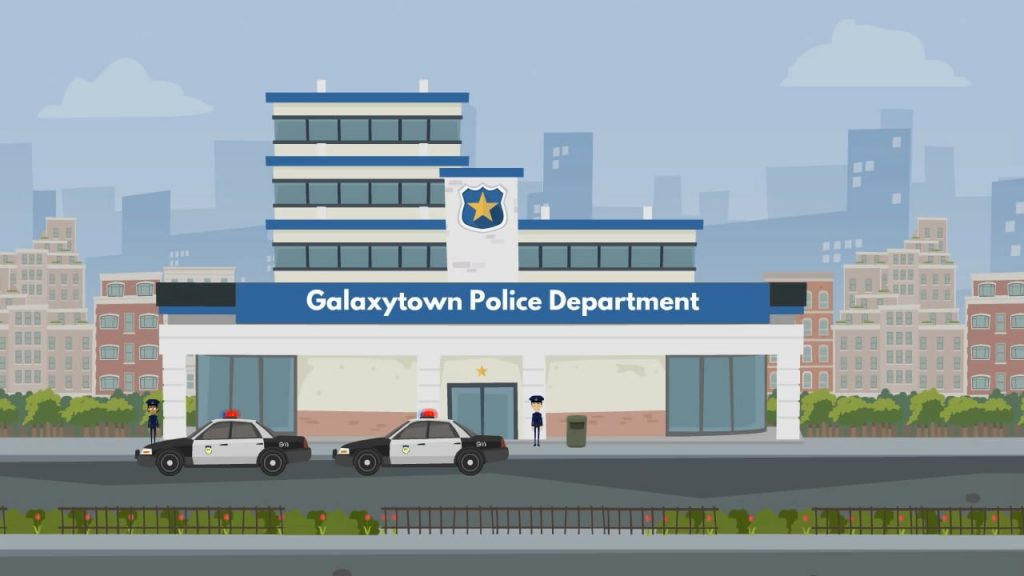 Galaxytown Police Department
Video
Using Vmoso enables the Galaxytown Police Department to close cases faster. Vmoso captures, organizes and retrieves information from any device as a single source of truth.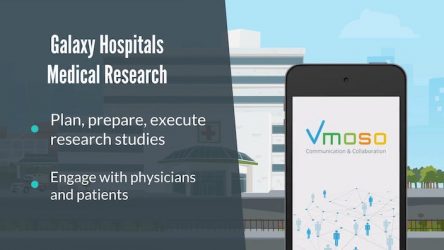 Galaxy Hospitals Medical Research
Video
Galaxy Hospitals uses Vmoso to help medical researchers plan, prepare and execute their studies, Vmoso lets them engage with both the physicians who can benefit from research findings, and patients in...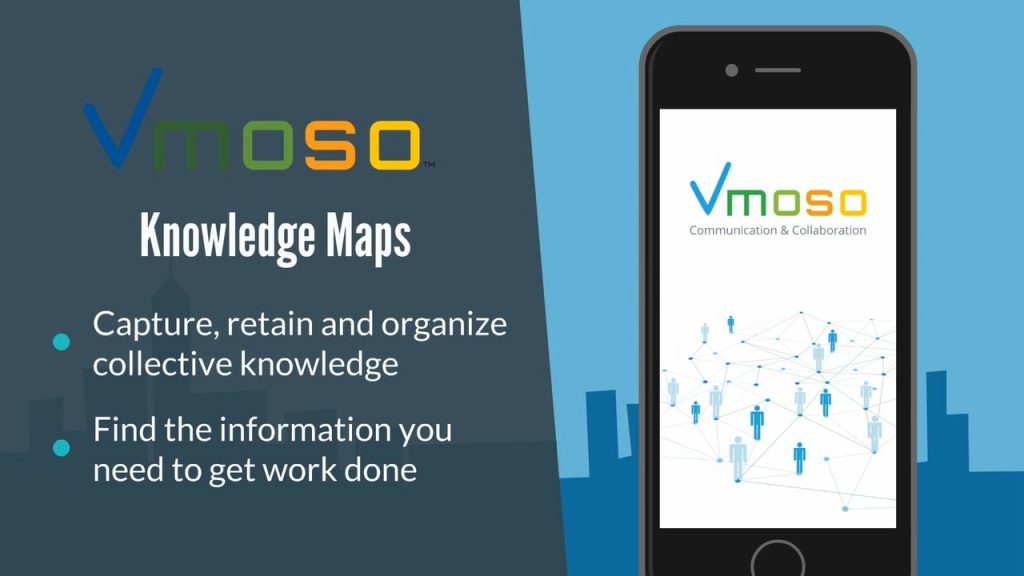 Video
As organizations embark on digital transformation projects, it is essential that everyone can quickly gain access to the information they need, and can share new knowledge efficiently with the rest of...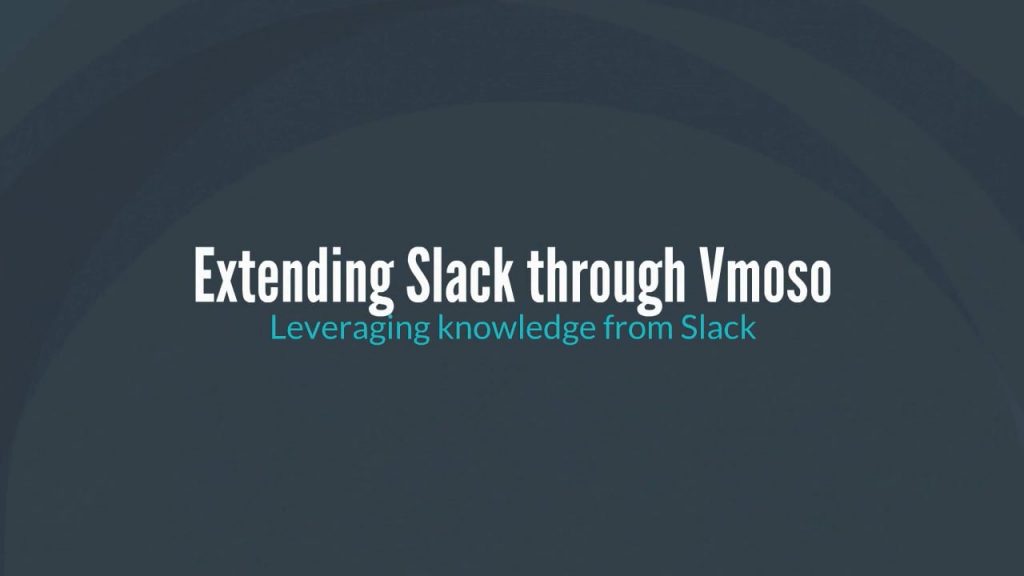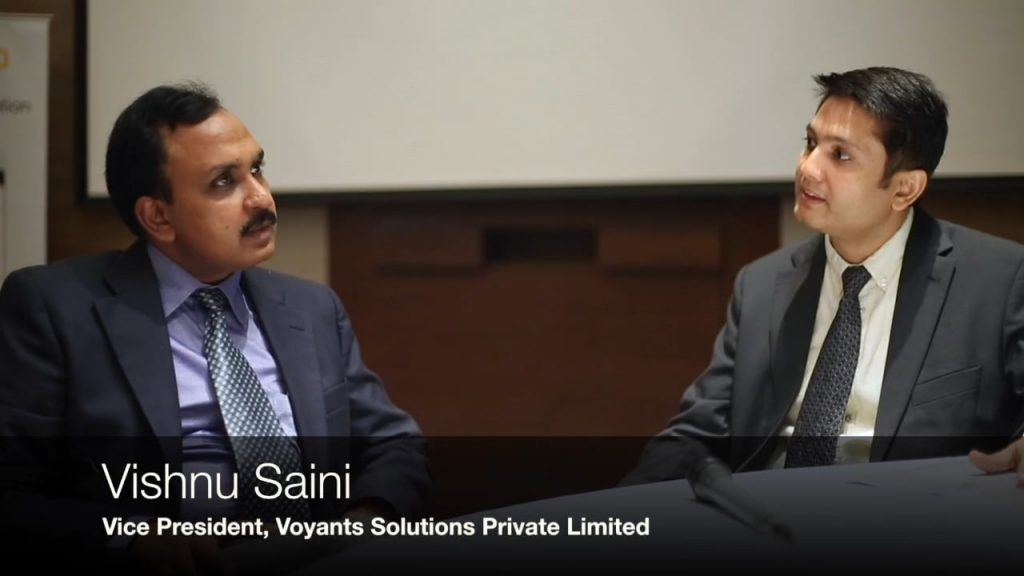 Video
Vishnu Saini of Voyants Solutions Private Limited, in conversation with Biplove Belwal of BroadVision, describes his company's experiences of using Vmoso.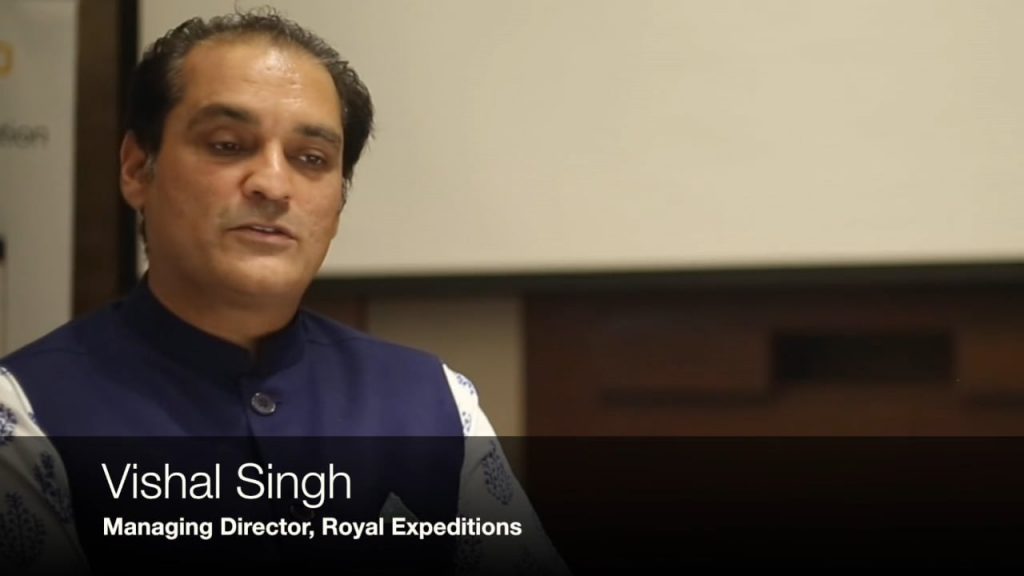 Vishal Singh, Royal Expeditions
Video
Vishal Singh of Royal Expeditions, in conversation with Biplove Belwal of BroadVision, describes his company's experiences of using Vmoso.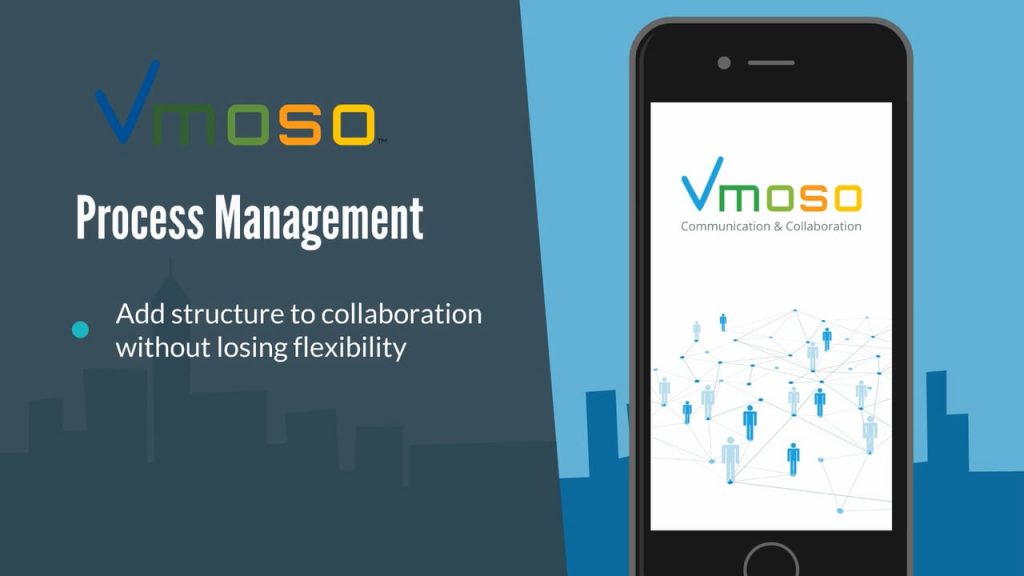 Video
The Galaxy Corporation are longstanding users of Vmoso for collaboration and communication inside, outside and between their various subsidiary companies. They have recently started using Vmoso Proces...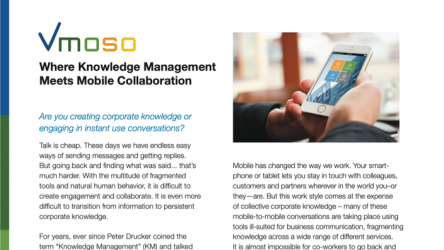 Vmoso - Where Knowledge Management Meets Mobile Collaboration
White Paper
As work becomes increasing more collaborative, employees everywhere must tap into corporate knowledge at any time.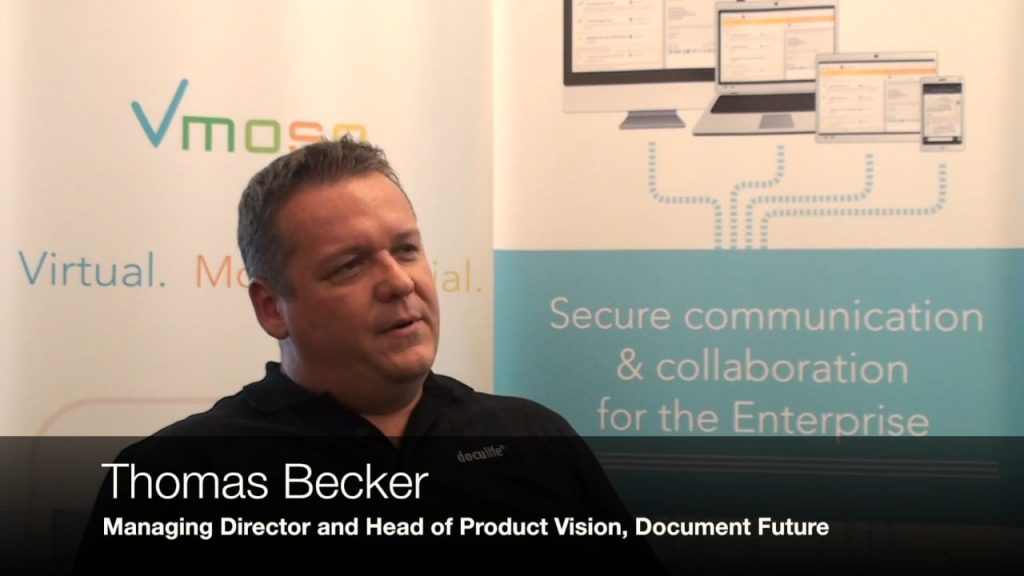 Case Study: Document Future
Video
Thomas Becker, Managing Director of Document Future, describes how he introduced Vmoso into his company to improve the quality of communication and collaboration and meet a challenging software releas...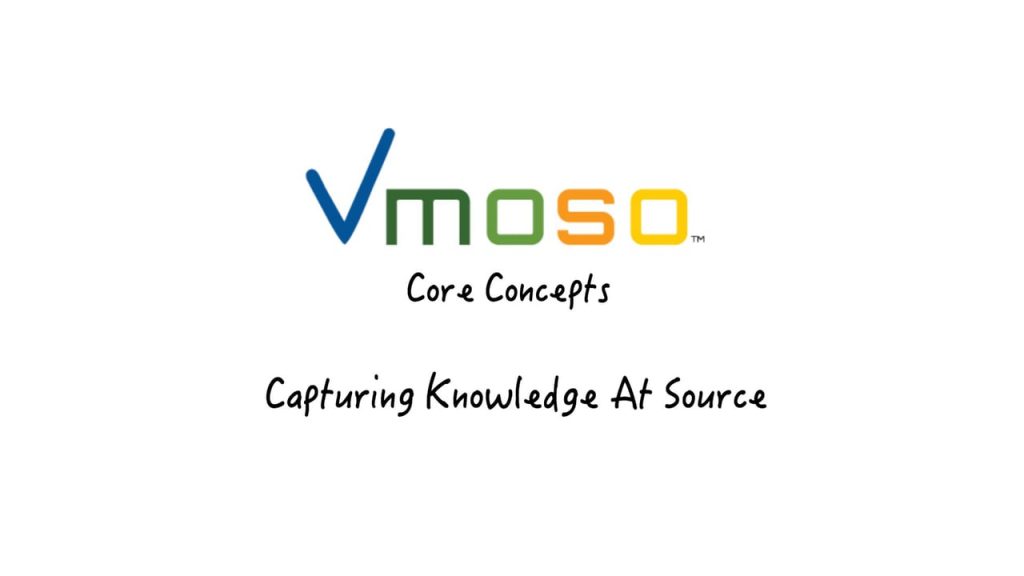 Capturing Knowledge At Source
Video
The need for knowledge management has never been greater. The conversations we have today are the knowledge that other people will be searching for tomorrow. Capture them at source or lose them foreve...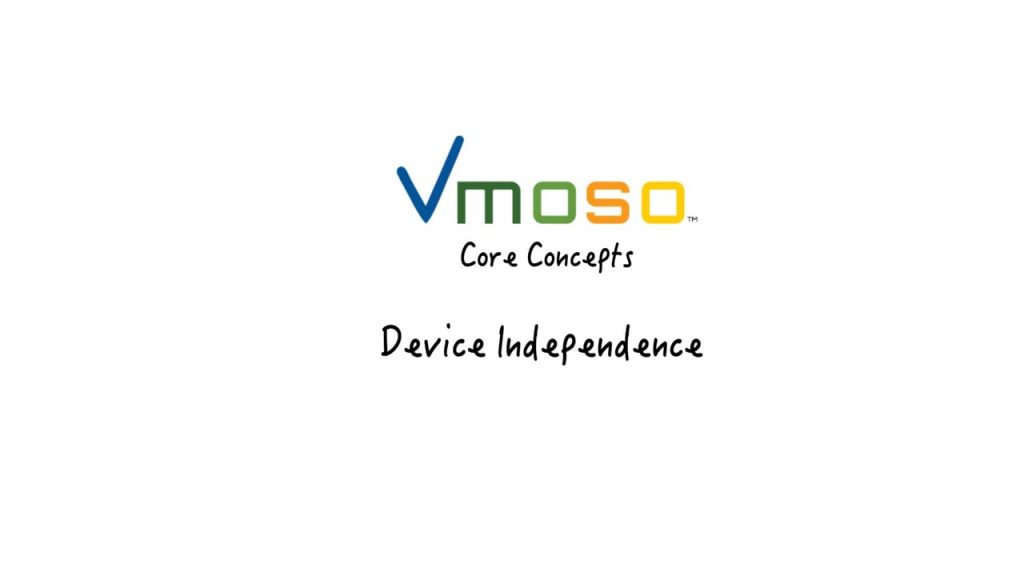 Video
Mobile has changed the way we work. But for many knowledge workers, it's not a seamless experience. Vmoso is "people first", and recognises that deskbound workers and mobile workers are equal...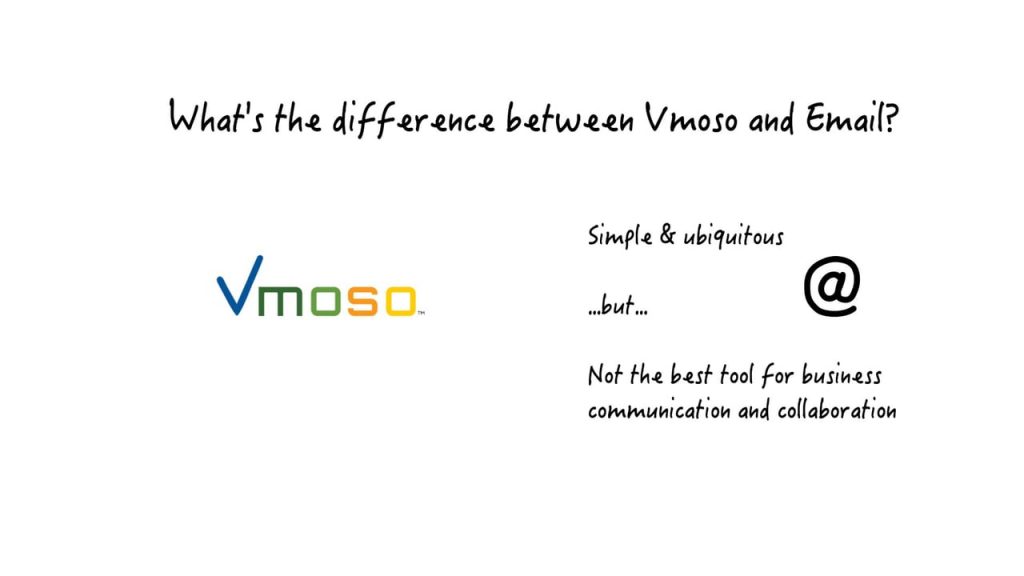 Video
Love it or hate it, email forms a major part of most knowledge workers' communication. But few people still believe it's the best tool for business communication and collaboration. In this video,...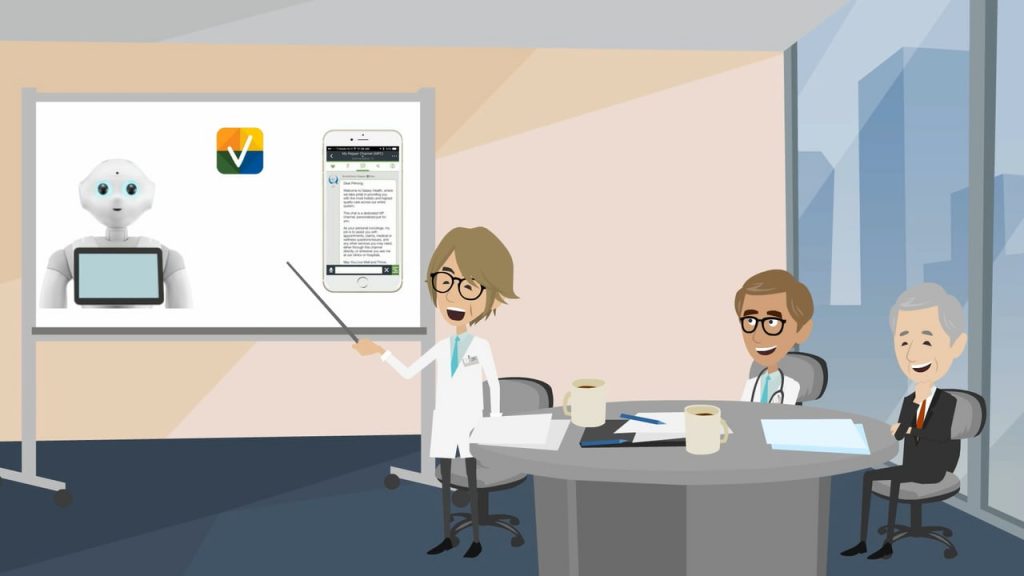 Video
Pepper robots and Watson cognitive systems can help doctors to handle patients and make their hospital visits faster and nicer. Add Vmoso to the mix, and the patient stays connected with the hospital,...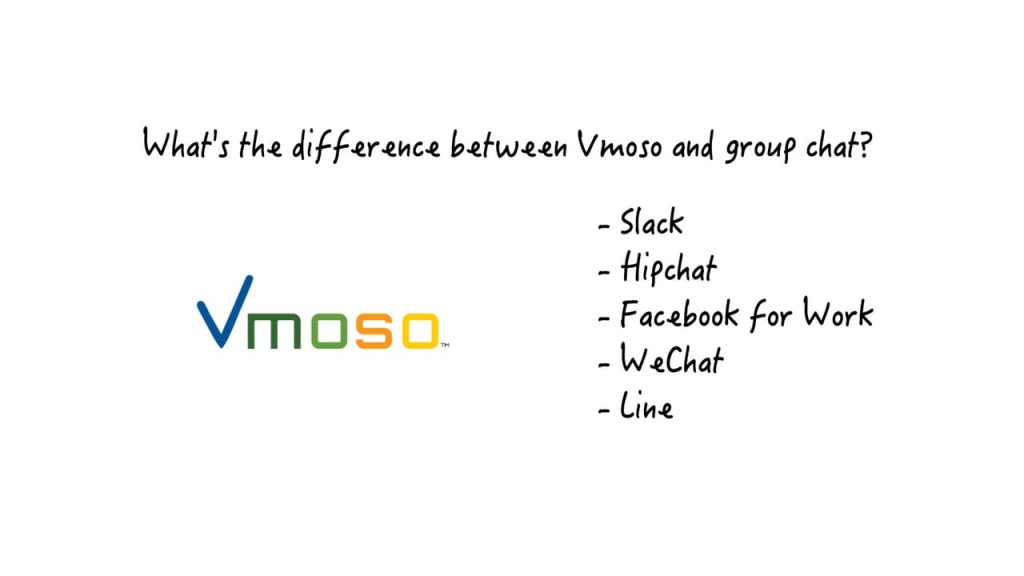 Video
If you've become increasingly frustrated with email as your main business communication tool, you've probably looked at using a group chat tool like Slack, Hipchat, Facebook for Work, WeChat or Li...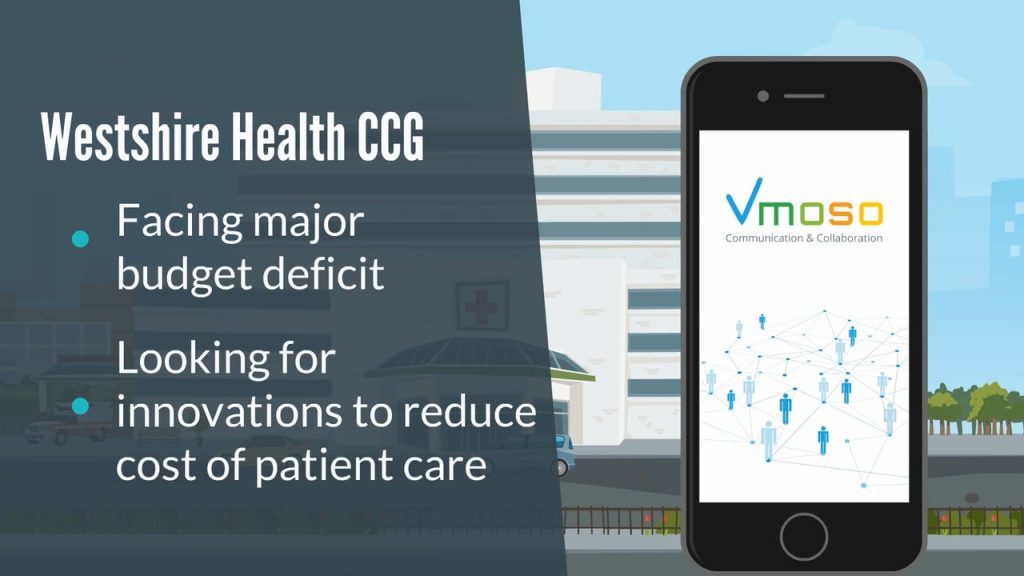 Video
Faced with the prospect of a major budget deficit in the next few years, Westshire Health CCG is looking for innovations to make significant reductions to the cost of providing patient care. See how...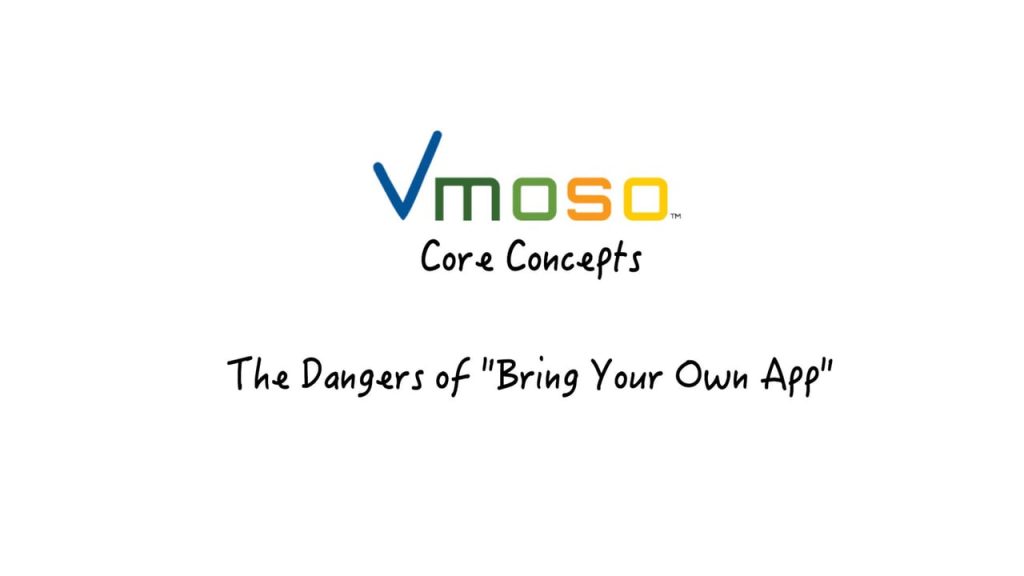 Video
Mobile has changed the way we work, but the rise of BYOA (bring your own app) can endanger corporate knowledge and potentially leave companies with legal compliance issues. Preserve the full histor...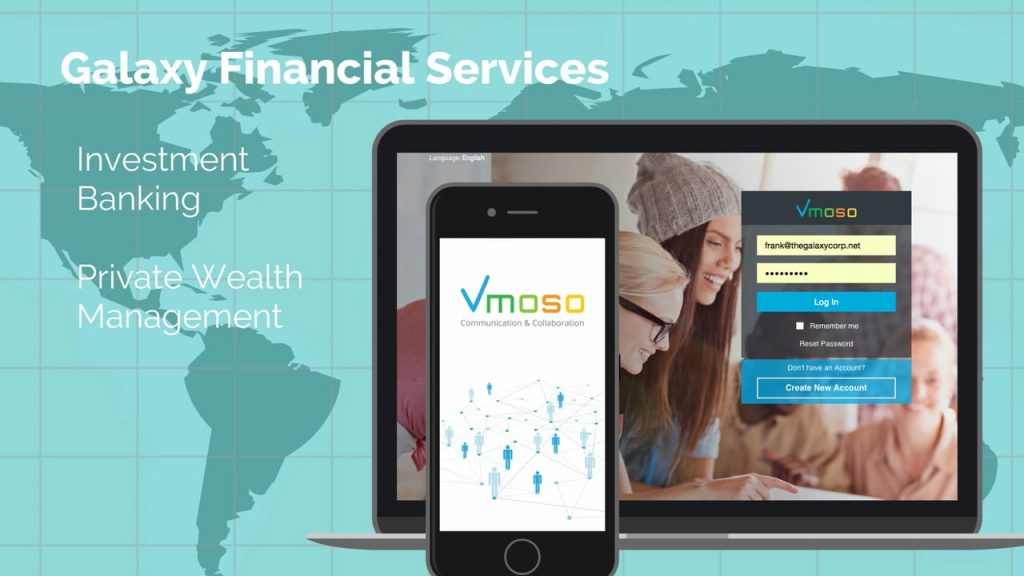 Galaxy Financial - Private Wealth Management
Video
Galaxy Financial Services is a global provider of financial services with headquarters in New York, and offices around the world. See how Galaxy uses Vmoso in its Private Wealth Management divisio...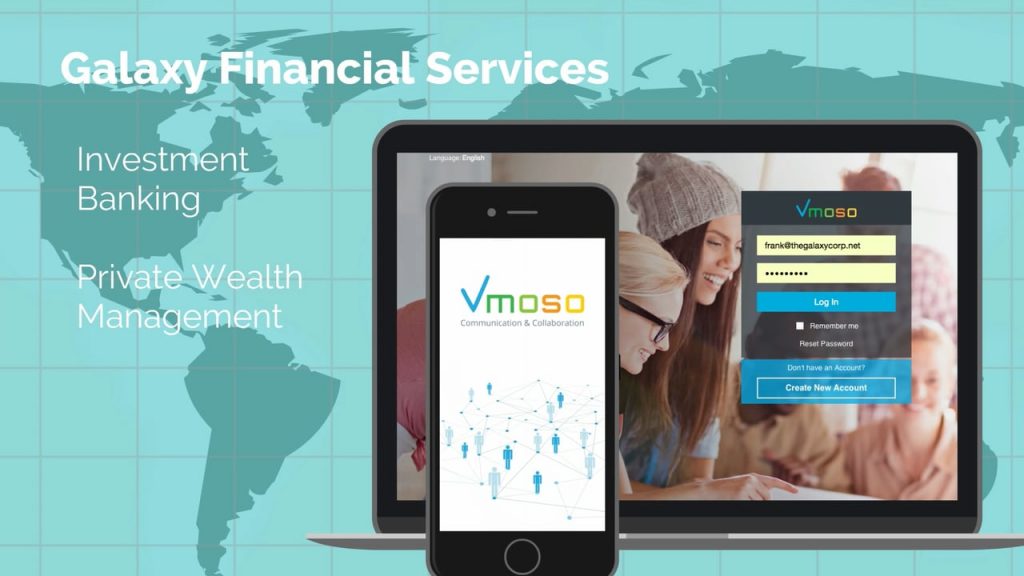 Galaxy Financial - Investment Banking
Video
Galaxy Financial Services is a global provider of financial services with headquarters in New York, and offices around the world. See how Galaxy uses Vmoso in its Investment Banking division to en...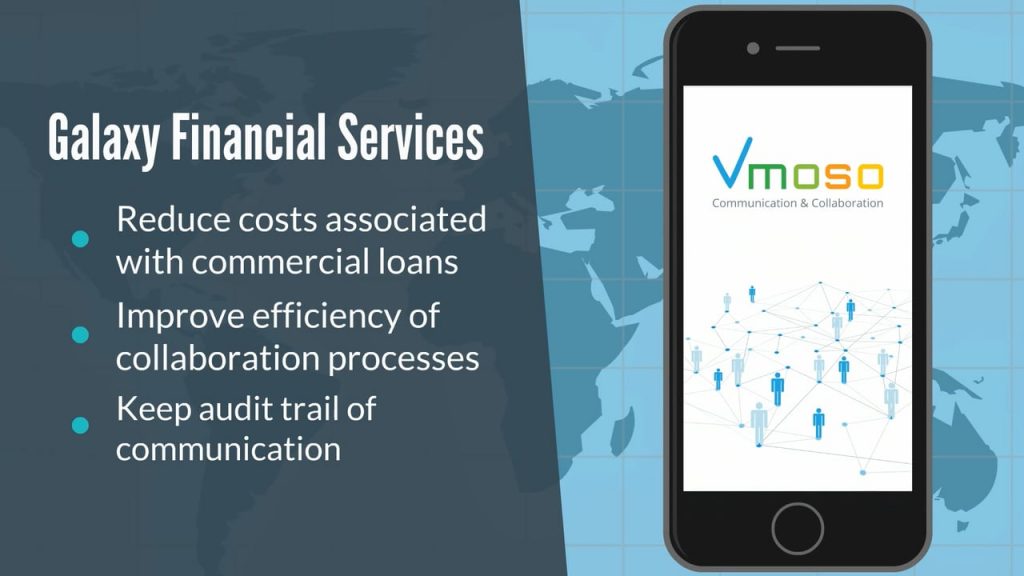 Galaxy Financial - Commercial Loans
Video
Galaxy Financial Services is a large financial services institution, offering a comprehensive array of banking, security, investment and other products to both consumers and businesses. See how they...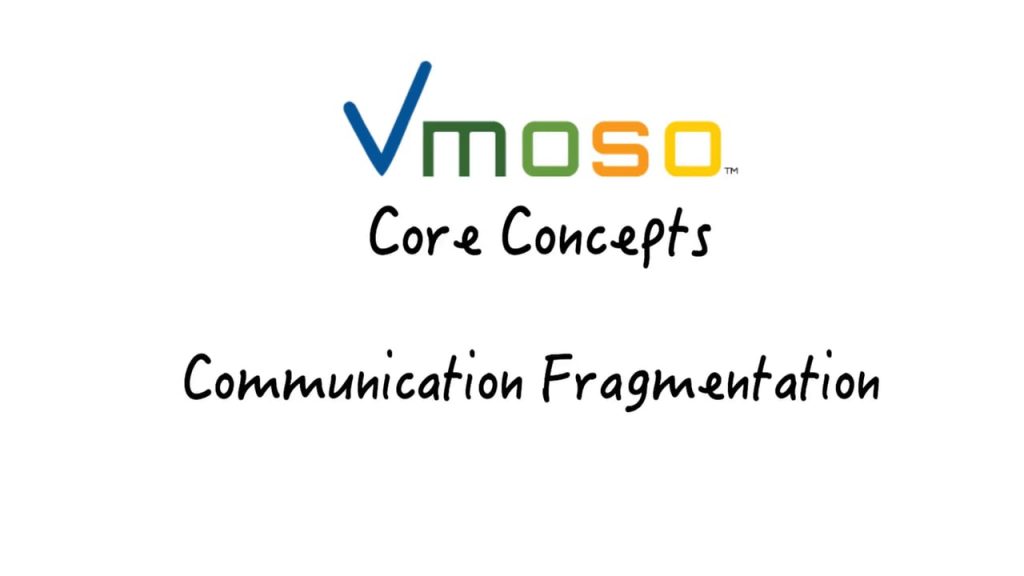 Communication Fragmentation
Video
As we move beyond email, our business communication has become more and more dispersed across different services. We call this "communication fragmentation". This video explains how Vmoso addresses th...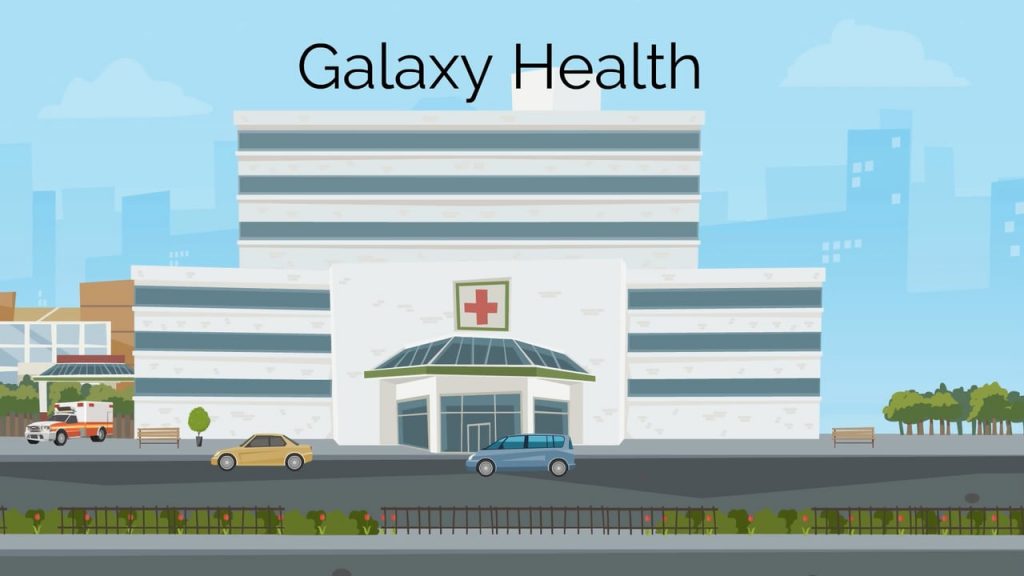 Video
Galaxy Health is a US healthcare insurance provider. Galaxy's new CEO made it his personal mission to overhaul the way Galaxy communicates with its partners and customers so that it can deliver the...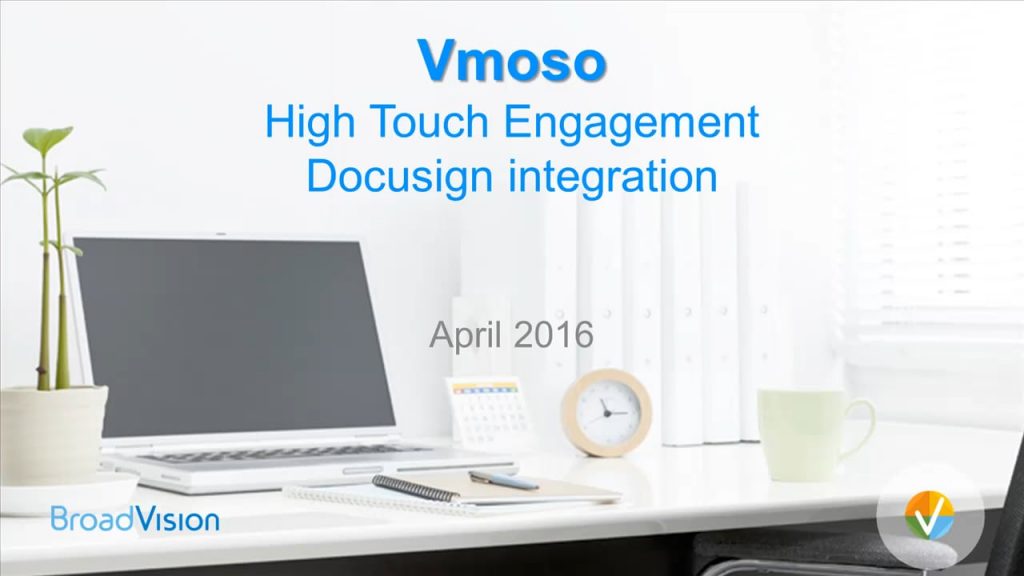 Vmoso + Docusign integration
Video
Electronic signatures make one-to-one contractual relationships easier than ever before, and that's what Docusign provides. Integration with Vmoso makes it possible to engage around signed documents,...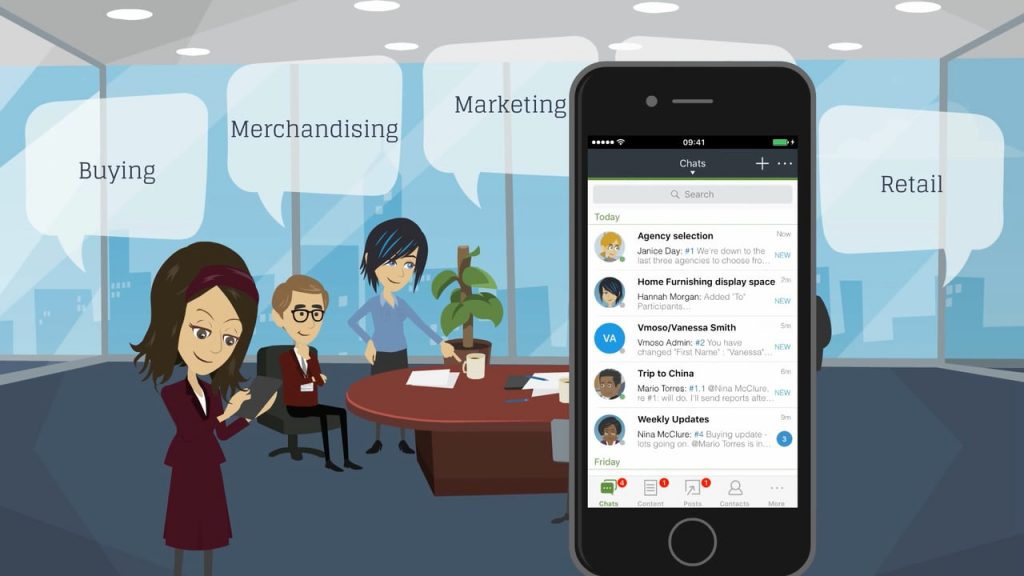 Video
See how Galaxy Department Stores use Vmoso to enable a collaborative approach to rolling out their seasonal collections. Design, Production, Supply Chain, Marketing and Sales all work together to ensu...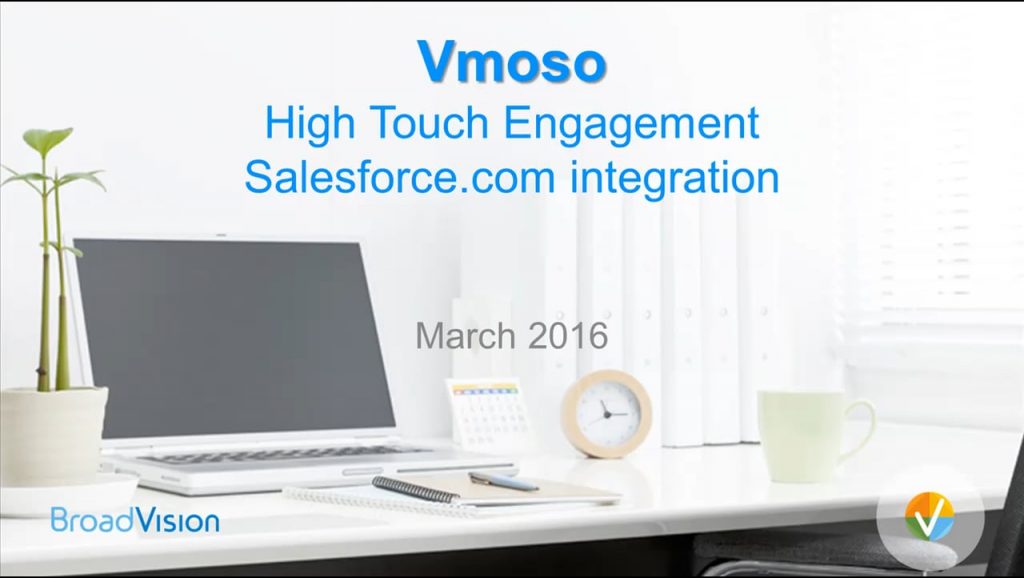 Vmoso + Salesforce.com integration
Video
Breaking the sales force silo by sharing opportunities beyond Salesforce.com usual audience, Vmoso lets the whole company, and beyond, engage with you to help you convert your opportunities in deals.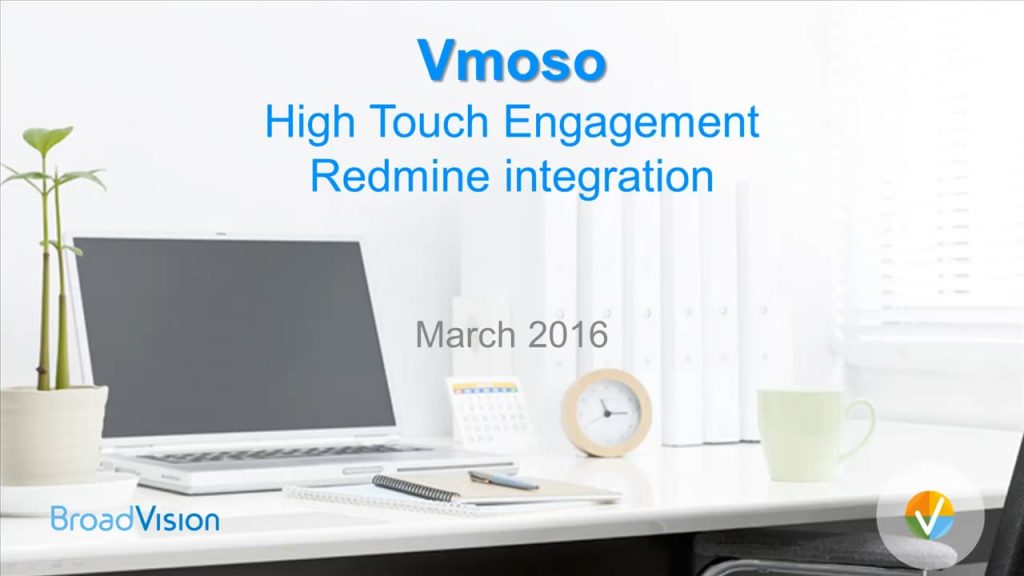 Vmoso + Redmine integration
Video
You need to track some product development topics, but don't have the time to dive into a system like Redmine, where your engineers process dozens of tickets every day? Then the Vmoso integration is f...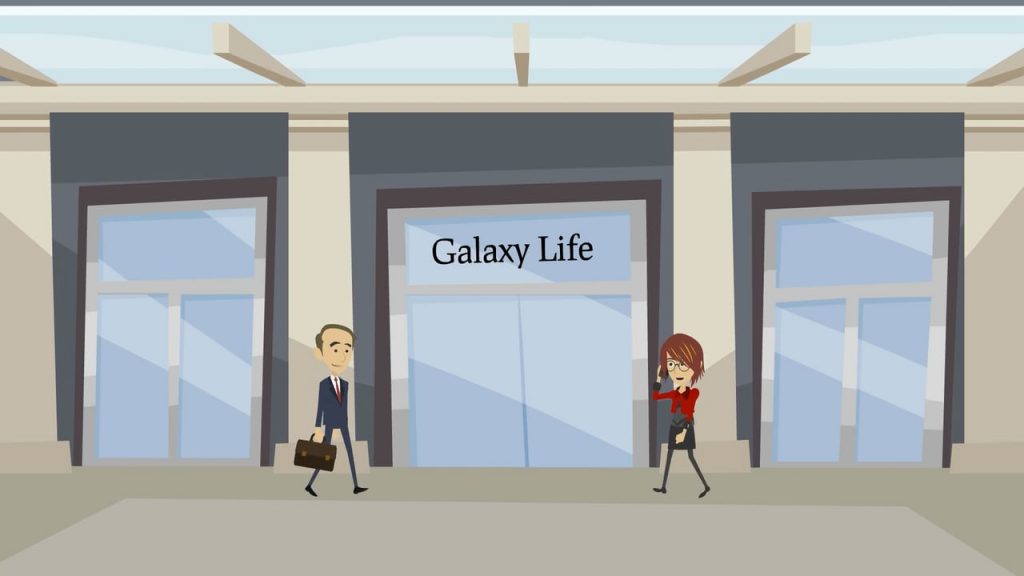 Video
Galaxy Life is a large Insurer, offering Life Insurance, Retirement Planning & Child Education term plans. See how they use Vmoso to regain more direct control of the customer relationship, and imp...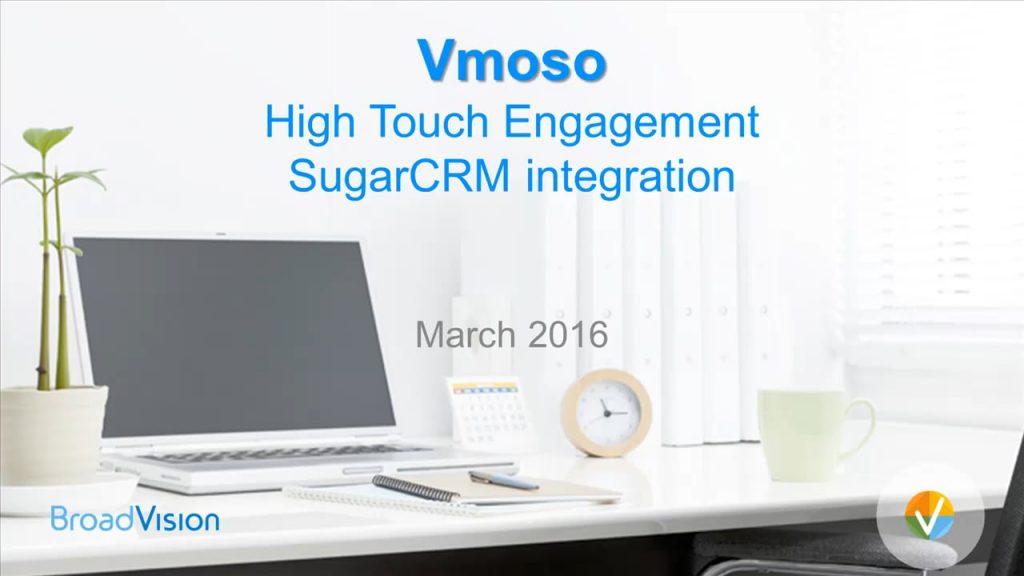 Vmoso + SugarCRM integration
Video
Someone in your company has the solution to your customer's issue, but your support doesn't know who, and the customer gets frustrated and angry. Does that sound familiar to you? Not to Galaxy Cable,...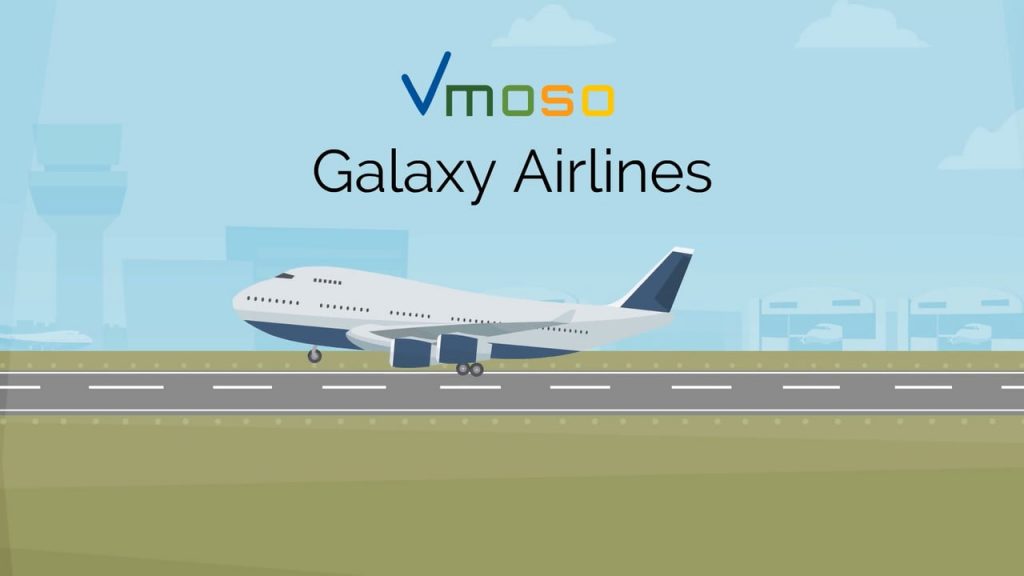 Video
Galaxy Airlines flies millions of passengers a year on short-haul routes in the US and Europe, and long-haul routes between the two. See how they use Vmoso to engage with their most valued frequent...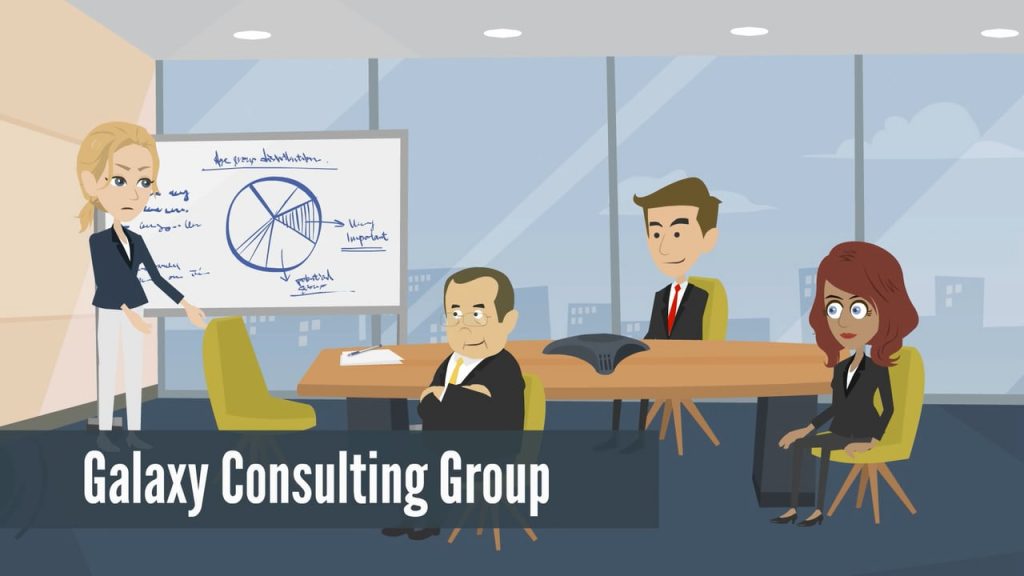 Video
Galaxy Consulting Group are a global provider of professional services, specialising in strategic business consulting and deployment of major IT projects. See how they use Vmoso to enable efficient...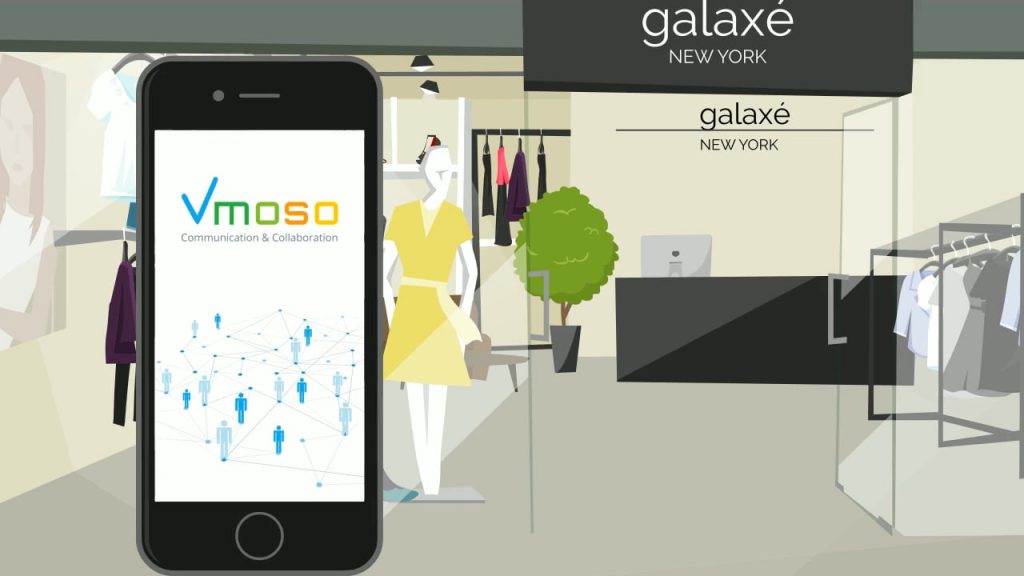 Video
Galaxy Fashion is a world leading high-end retail chain for designer clothing and luxury goods with 1000 storefronts worldwide and boutiques within larger retailers. See how Galaxy is using Vmoso t...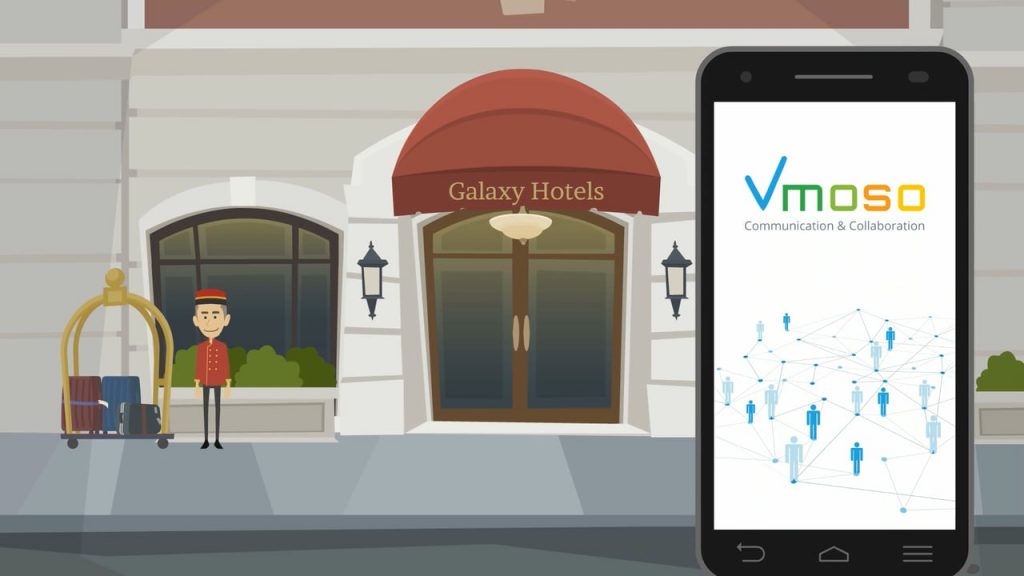 Video
Galaxy Hotels manage a chain of over 100 hotels around the world. See how they use Vmoso to improve the communication and collaboration between head office and the hotels, and to engage with their top...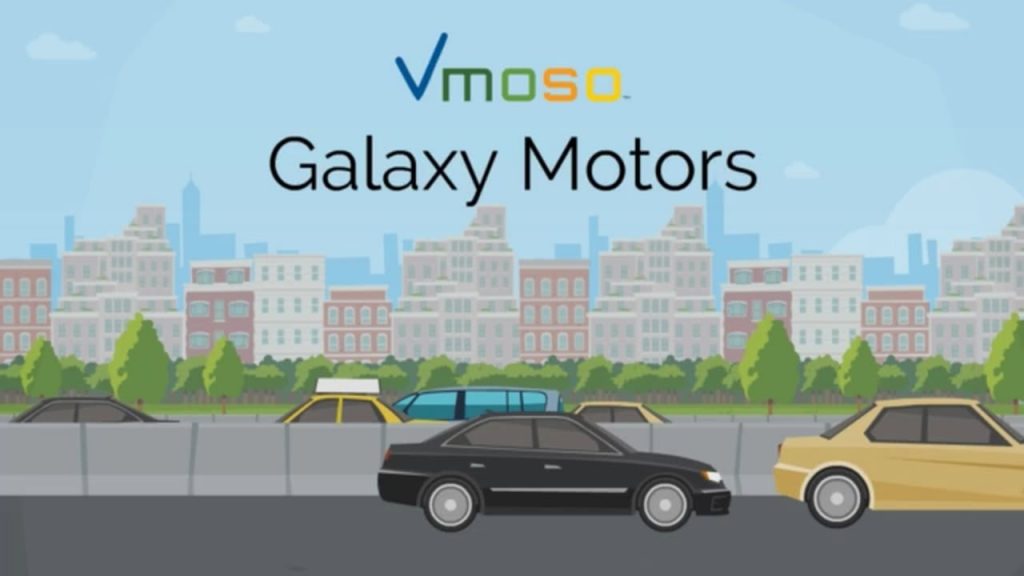 Video
Today's car buyers are better informed and have higher expectations than ever before. The car companies must engage and nurture the consumer more than ever. See how Galaxy Motors use Vmoso to en...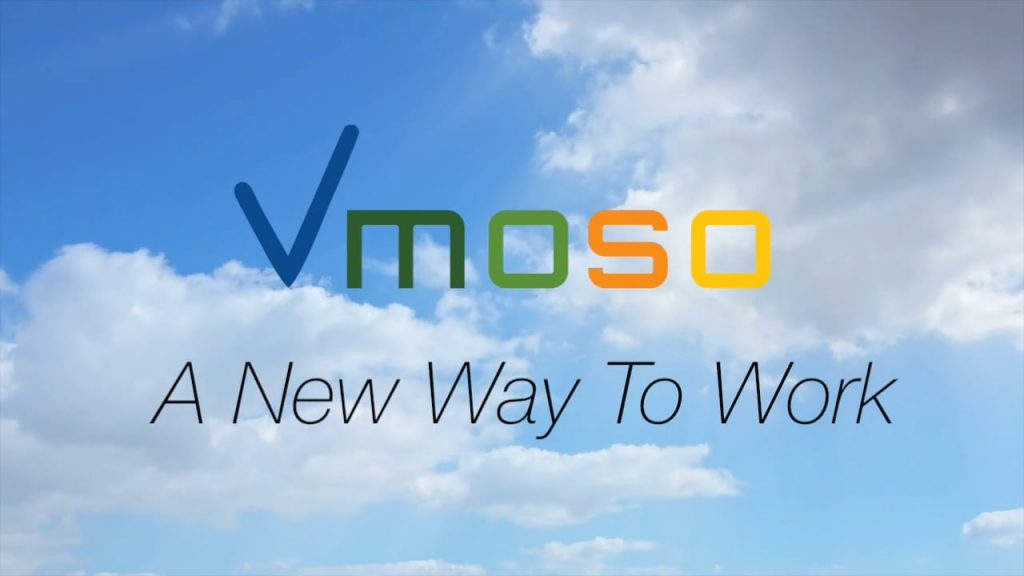 Vmoso - A New Way To Work
Video
Vmoso provides a single, unified destination for business collaboration, combining email, instant messaging, content sharing, workflow and social networking.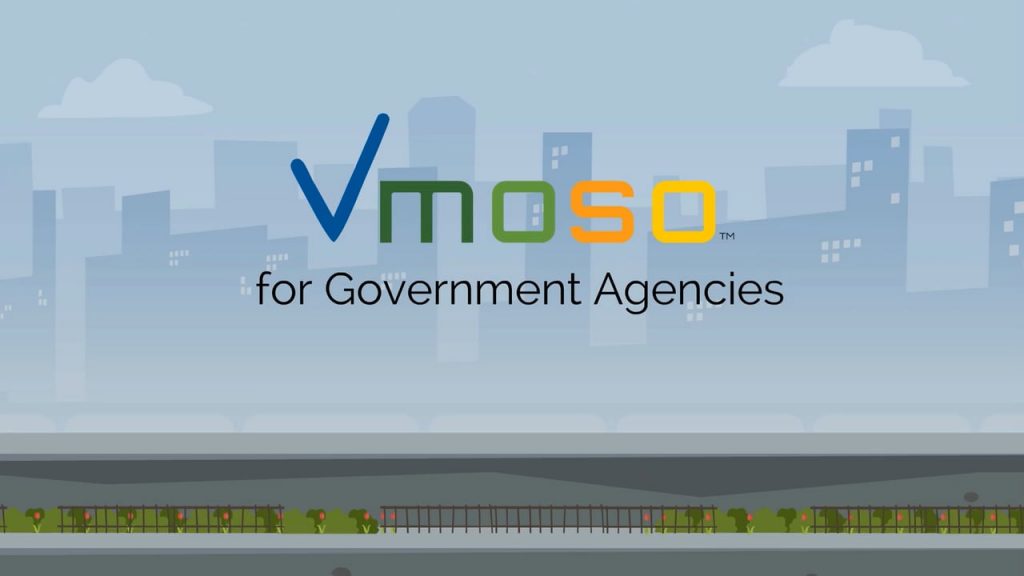 Vmoso for Government Agencies
Video
The complex labyrinth of government departments makes cross-agency communication a necessity, but it is often a chaotic mix of incompatible systems. With security a highest priority, government agenci...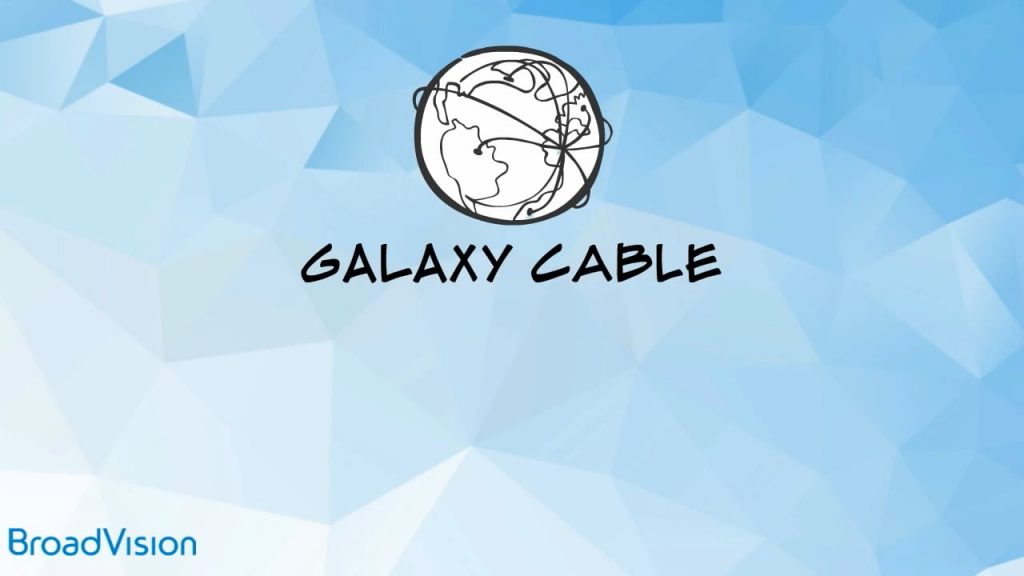 Video
Galaxy Cable Inc is a full service provider of cable TV, internet and voice services to both residential and commercial customers, serving 30M households and 2M businesses. See how Galaxy use Vmos...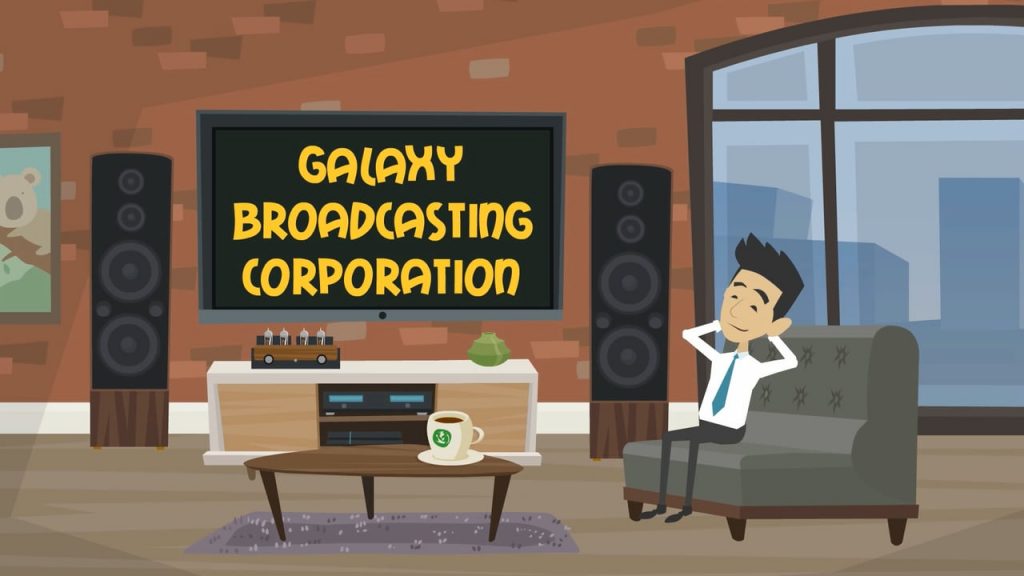 Galaxy Broadcasting Corporation
Video
Galaxy Broadcasting Corporation is a major news, information and entertainment company with a network, affiliate and 12 owned and operated local stations around the country. See how Galaxy use Vmo...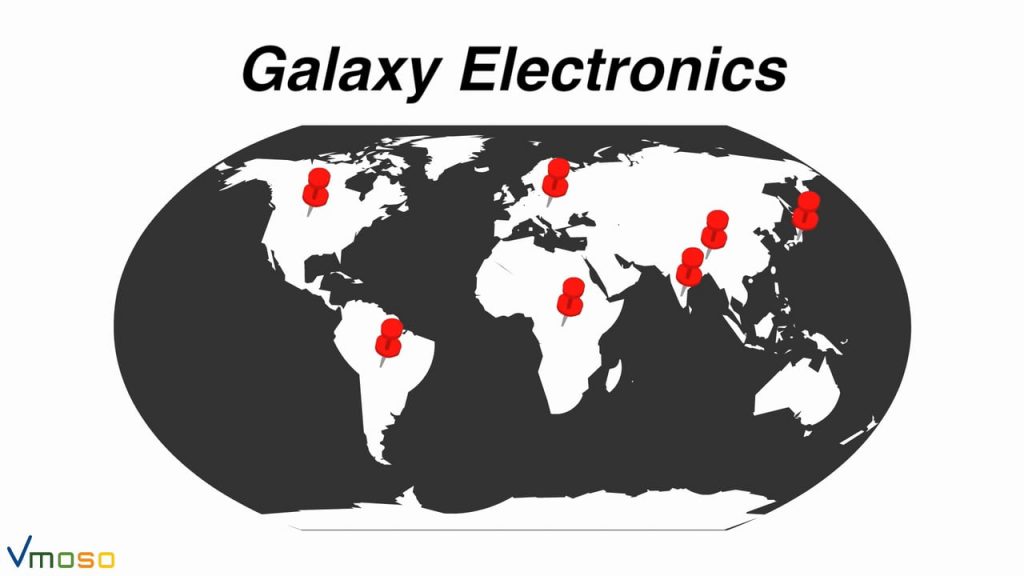 Video
Galaxy Electronics is a manufacturer of consumer electronics. Its products are designed in Japan, built in China and the software developed in India. Products are distributed and sold worldwide. S...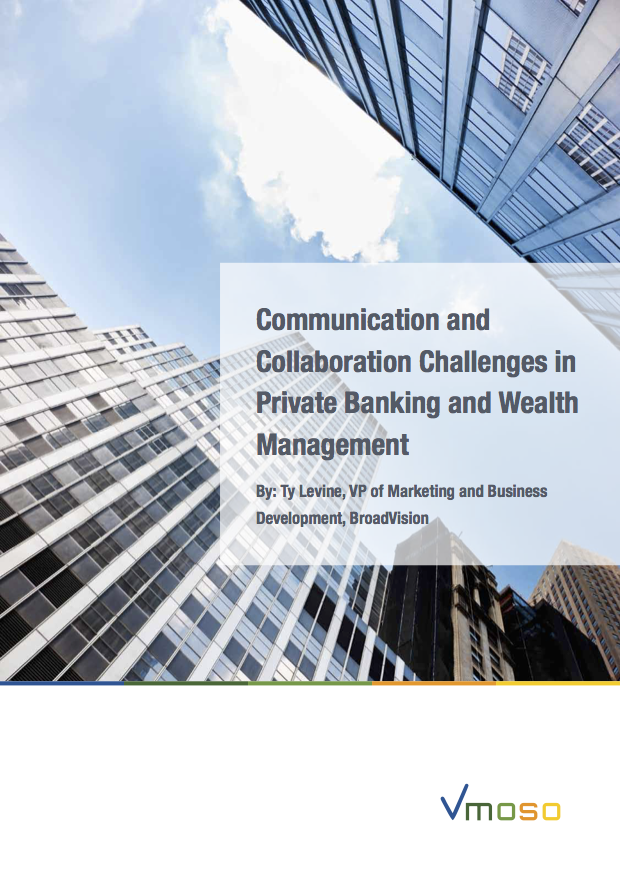 Communication and Collaboration Challenges in Private Banking and Wealth Management
White Paper
Financial institutions need to focus on building both strong external relationships as well as internal collaboration between the large number of individuals and teams involved in daily operations. Ta...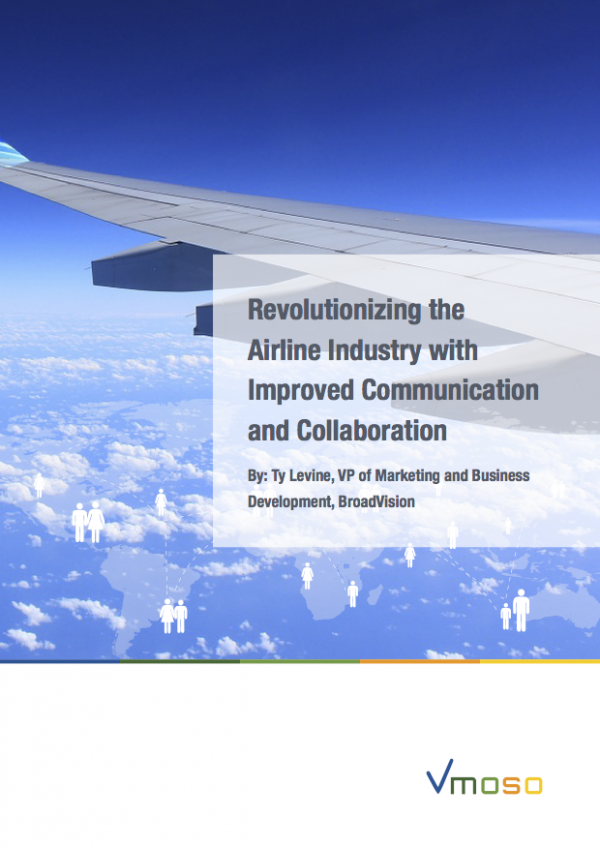 Revolutionizing the Airline Industry with Improved Communication and Collaboration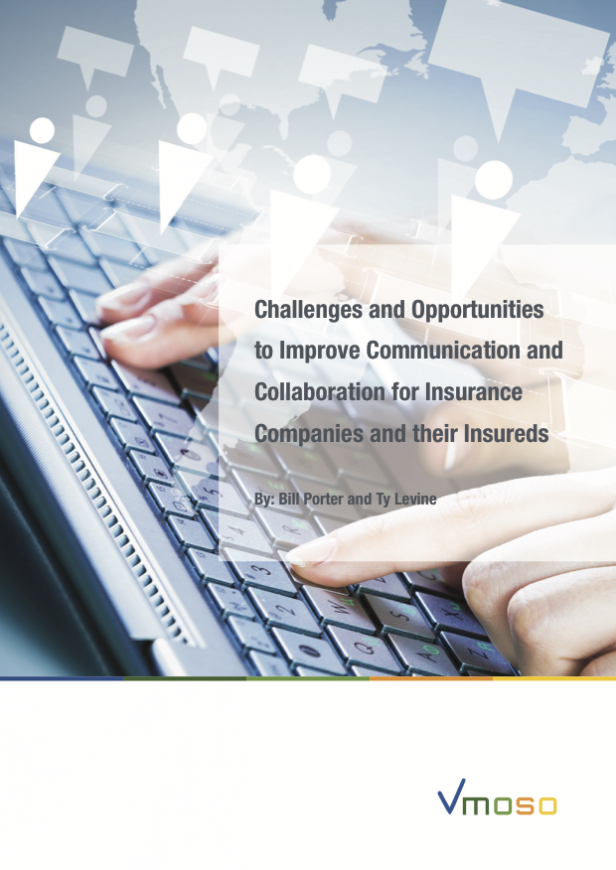 Challenges and Opportunities to Improve Communication and Collaboration for Insurance Companies and their Insureds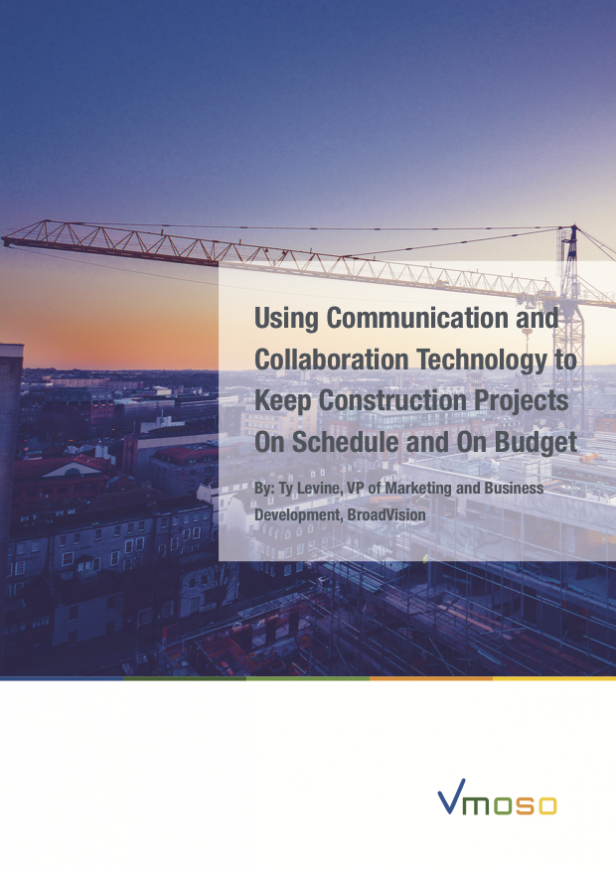 Using Communication and Collaboration Technology to Keep Construction Projects On Schedule and On Budget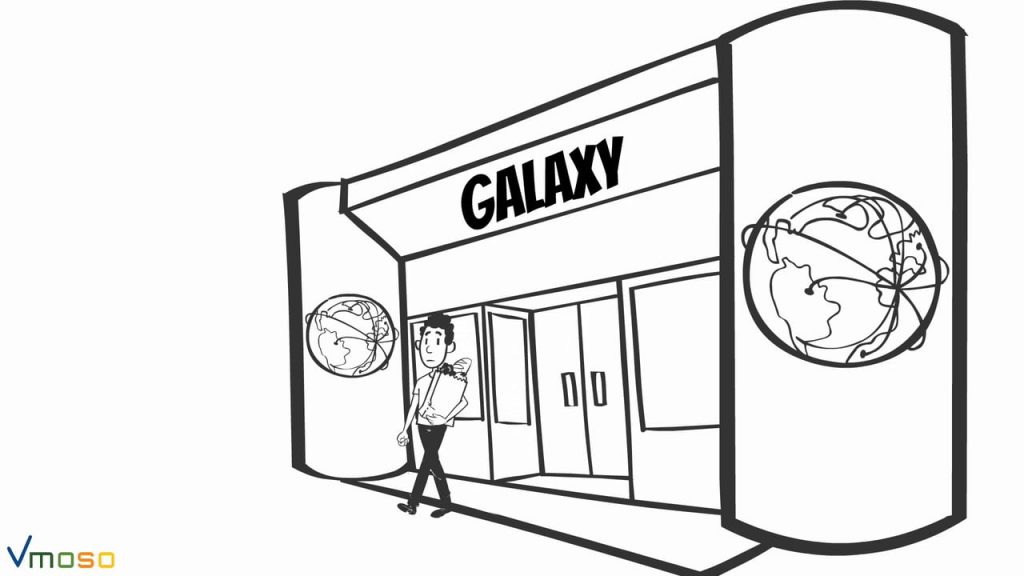 Galaxy Convenience Stores
Video
Galaxy Convenience Stores is a retail chain of 12,000 franchised stores in 5 countries. It employs 6,000 workers directly and franchisees employ 150,000 in stores. See how Galaxy uses Vmoso to: -...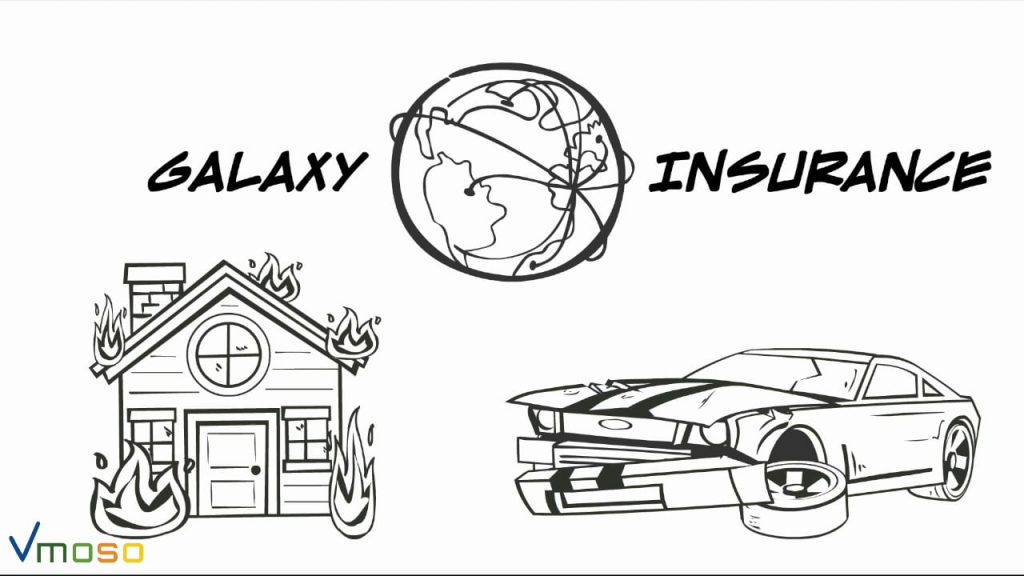 Video
Galaxy Insurance is a large general insurer, primarily offering household and motor insurance. It sells direct to consumers, and also deals through intermediaries such as brokers and agents. As th...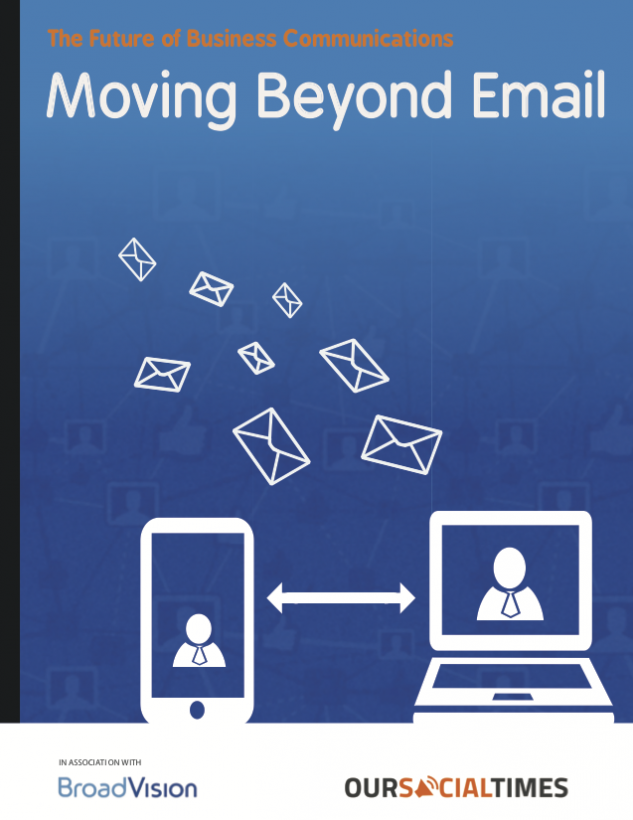 White Paper
In 2014 Our Social Times ran a series of webinars around the theme of The Future of Business Communications. The first in the series, titled Moving Beyond Email, analysed the challenge facing organisa...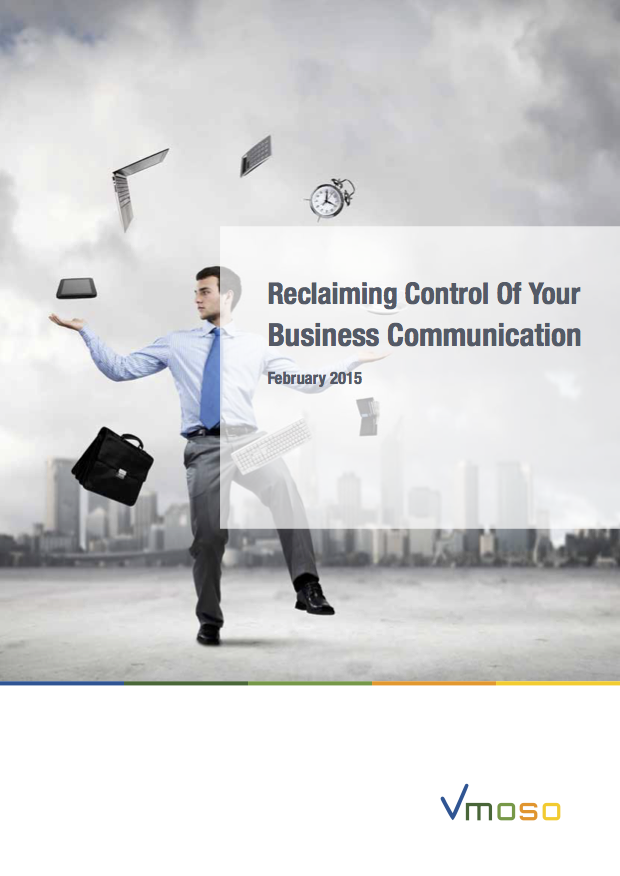 Reclaiming Control Of Your Business Communication
White Paper
Business communication has become fragmented, as organizations—and the employees within them—use a variety of services for everyday work.
No resources to show