Vmoso Professional Services
To get your team working more efficiently, the Vmoso Professional Services team offers a comprehensive range of services for all stages of your business engagement initiative.
Whether it is a customized deployment or a social business transformation project, our team assesses your organization's readiness, designs a transition strategy, and specifies the implementation path that best leverages the power of our products in combination with your systems and processes.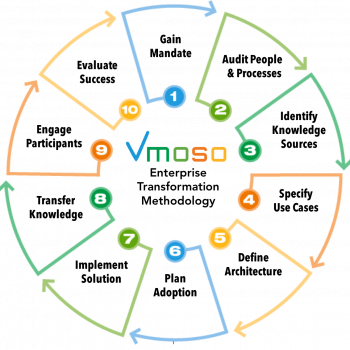 Education & Training
Tailored to your organization, industry, employees, and customers, our education and training services can be conducted remotely or on site to provide the exact assistance you need—whether it involves business consulting, product training, technical work, or all of the above.
 
Transformation
The Vmoso implementation methodology takes your organization through a detailed process of planning, establishing and refining your business communication and collaboration needs. Vmoso has developed a number of techniques to help organizations ease into new ways of working more effectively without disruption to ongoing business activities. Transform your business engagement with Vmoso—our team will help you make the transition as efficient and effective as possible.

Technical Integration
Vmoso offers a range of technical consulting services tailored to the specific requirements of each product line.